While tile countertop ideas are sometimes thought of as passé, we have witnessed a revival in recent years, with those looking for a decorative alternative to classic fitted countertops in stone, composite and wood.
Whether used in a kitchen, bathroom, laundry room or even in an outdoor kitchen, tiled countertops are a great way to bring color, pattern and texture to practical spaces as there are endless designs and configurations. To see if tiles could be the choice for you, we've rounded up a selection of tile countertop ideas and some tips from the experts.
Tile countertop ideas
If you're thinking of installing a tile countertop for a kitchen there are some practical considerations to take into account. While they do not need resealing and maintenance like stone countertops, some tiles can be prone to cracking and will need regular cleaning to keep the grout from staining. 
When choosing kitchen countertop ideas in particular it's important to consider materials, explains Harriet Goodacre, tile consultant at Topps Tiles. 'If you're looking to spruce up your kitchen countertops with tiles then there are a few important things to consider. Firstly, you're better off choosing a porcelain tile as they're less porous and generally more hardy than ceramic ones. This makes them the ideal tile to use in an area where you'll be preparing food and there might be food spillages and splashes.'
1. Create a utilitarian look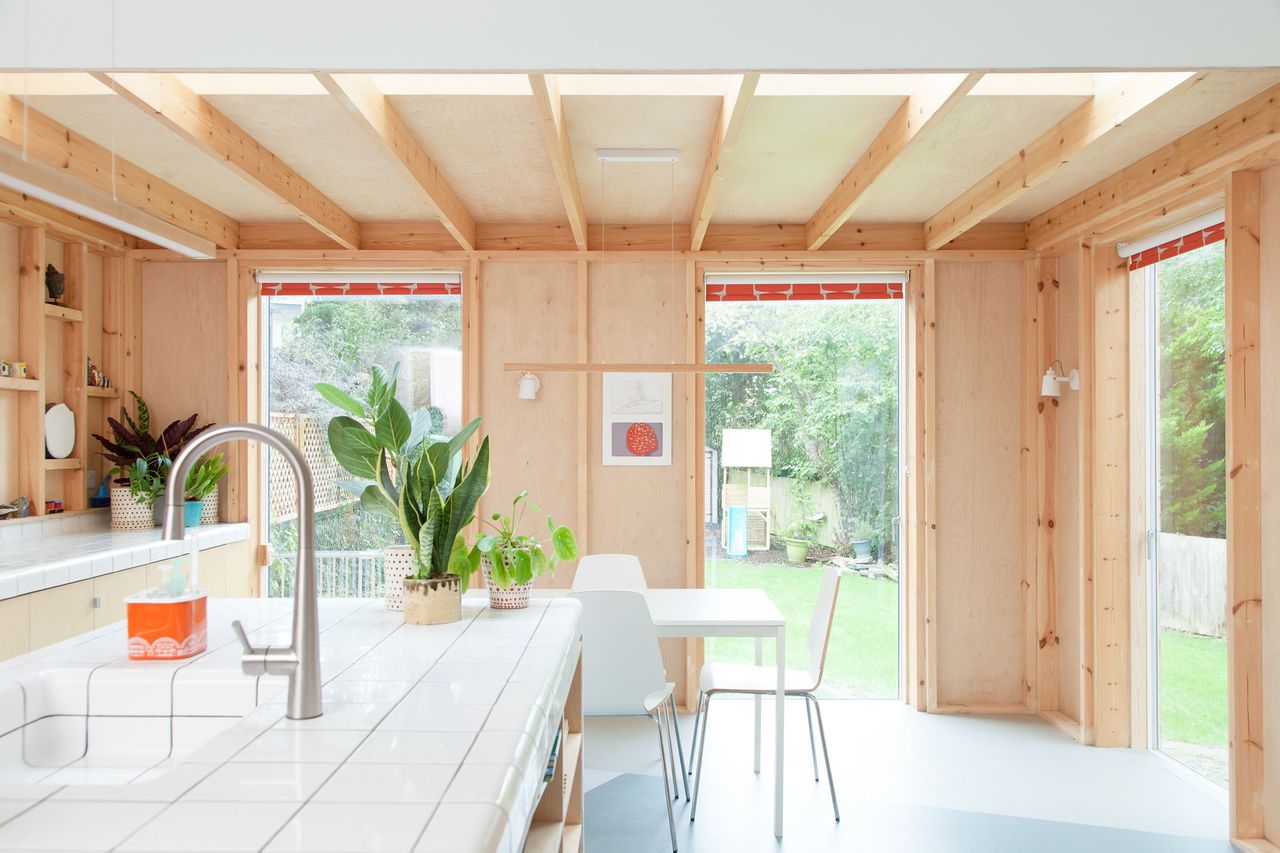 Set against ply walls, this white tile countertop idea brings a retro, utilitarian look to this urban kitchen addition and creates a playful contrast of materials, with the kitchen tile ideas limited to the countertops only.
'We chose a simple white ceramic tile which would clearly define the kitchen island and countertop and is set against the rich hue of natural ply doors for the kitchen and joinery,' explains Nimi Attanayake founder of Nimtim Architects. 'We wanted a material and color that was simple and uncomplicated – easy to use for all ages.'
While the tile countertop was a design choice, there were practicalities to consider explains Nimi Attanayake. 'Curved D-tiles are used to create spaciousness and allow the surface to seamlessly fold without any corners, for example to form a recessed sink within the island unit. The curved edges also make the space easier to clean and more child-friendly as the kids enjoy running around the island unit.'
2. Bring texture to a rustic kitchen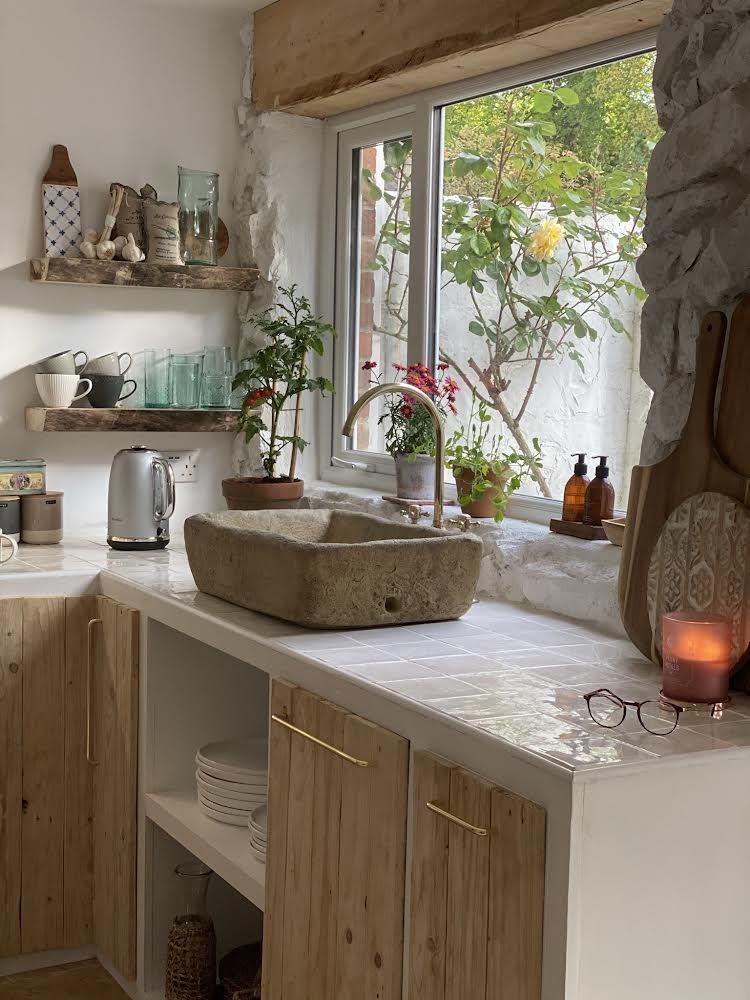 If you have a white kitchen then a tiled countertop can be an effective way to introduce texture, as this space proves. Inspired by Spanish interiors and designed to showcase the beauty of individual pieces, this small yet beautiful kitchen is a celebration of texture and materials.
While they are aesthetically pleasing, if you are planning to use tiles on a kitchen countertop care must be taken whilst preparing food explains Harriet Goodacre.
 'You shouldn't place anything hot straight onto the tiles and be careful to avoid dropping anything on them as this could cause chipping or cracking. Once a tile is cracked it will need replacing, so it's worth keeping a few spare tiles in just to be safe,' she advises. 'It's also important to make sure you don't cut or prepare food directly on a tiled worktop. Always use a proper chopping board or plate to ensure good food hygiene.'
In these busier spaces, organizing kitchen countertops well is important to stop them feeling cluttered.
3. Add a color pop to a bathroom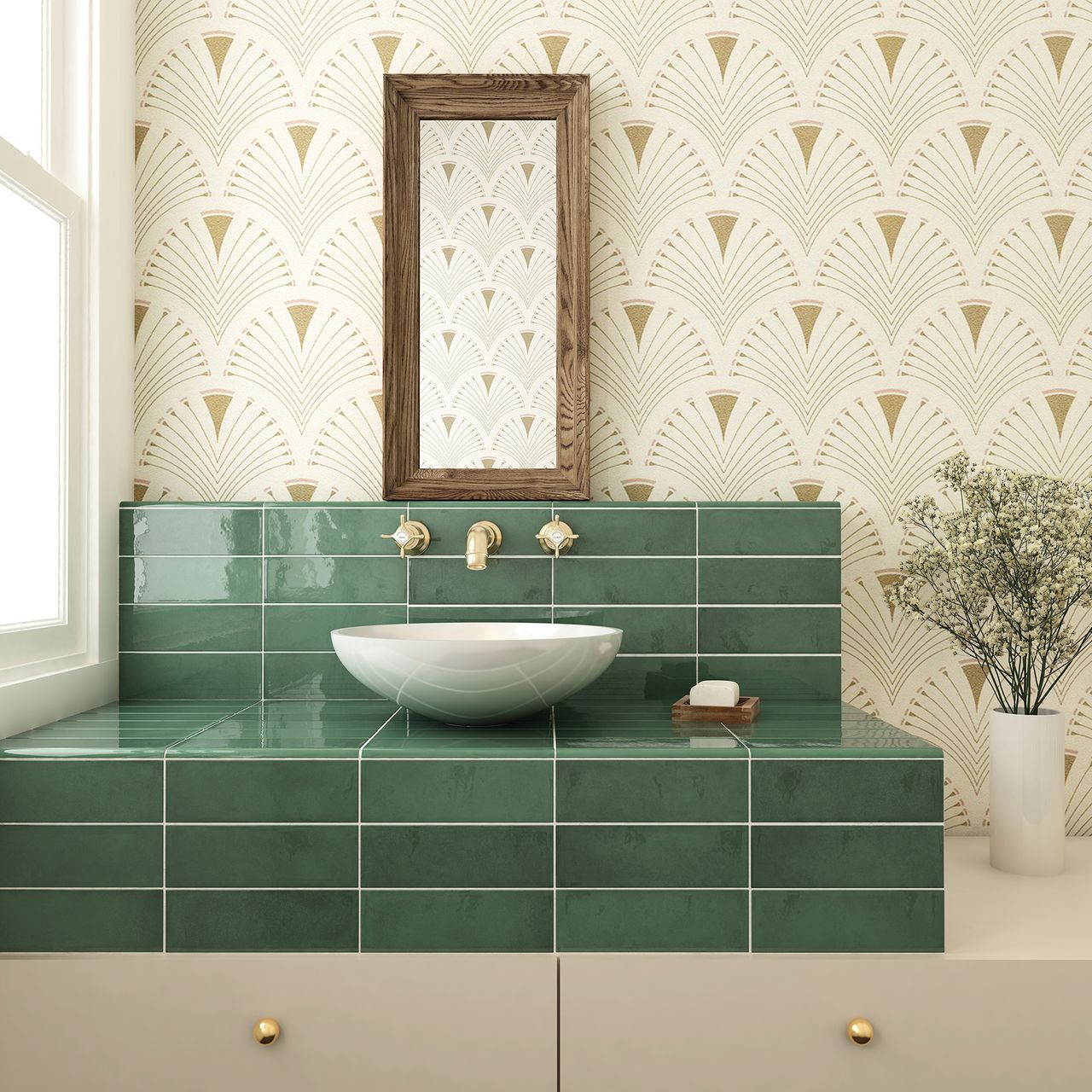 According to our design experts, there's been a rise in homeowners wishing to bring color into their bathroom. 'There has been a shift away from utilitarian white bathrooms into those with a little more color and personality to them, and we anticipate that this trend will continue well into 2022,' says Emma Joyce, brand manager EMEAA at House of Rohl.
Available in a huge array of designs and colors, glazed bathroom tile ideas are a fabulous way to inject a touch of personality into a room without overpowering a space. However, glazed tiles can easily chip if heavy items are dropped on them, so they are best used on surfaces which do not see a ton of wear and tear such as on a bathroom vanity unit in a cloakroom or guest bathroom. 
Just as in a kitchen, organizing a bathroom countertop will help keep this visually busier space looking streamlined. 
4. Create a seamless look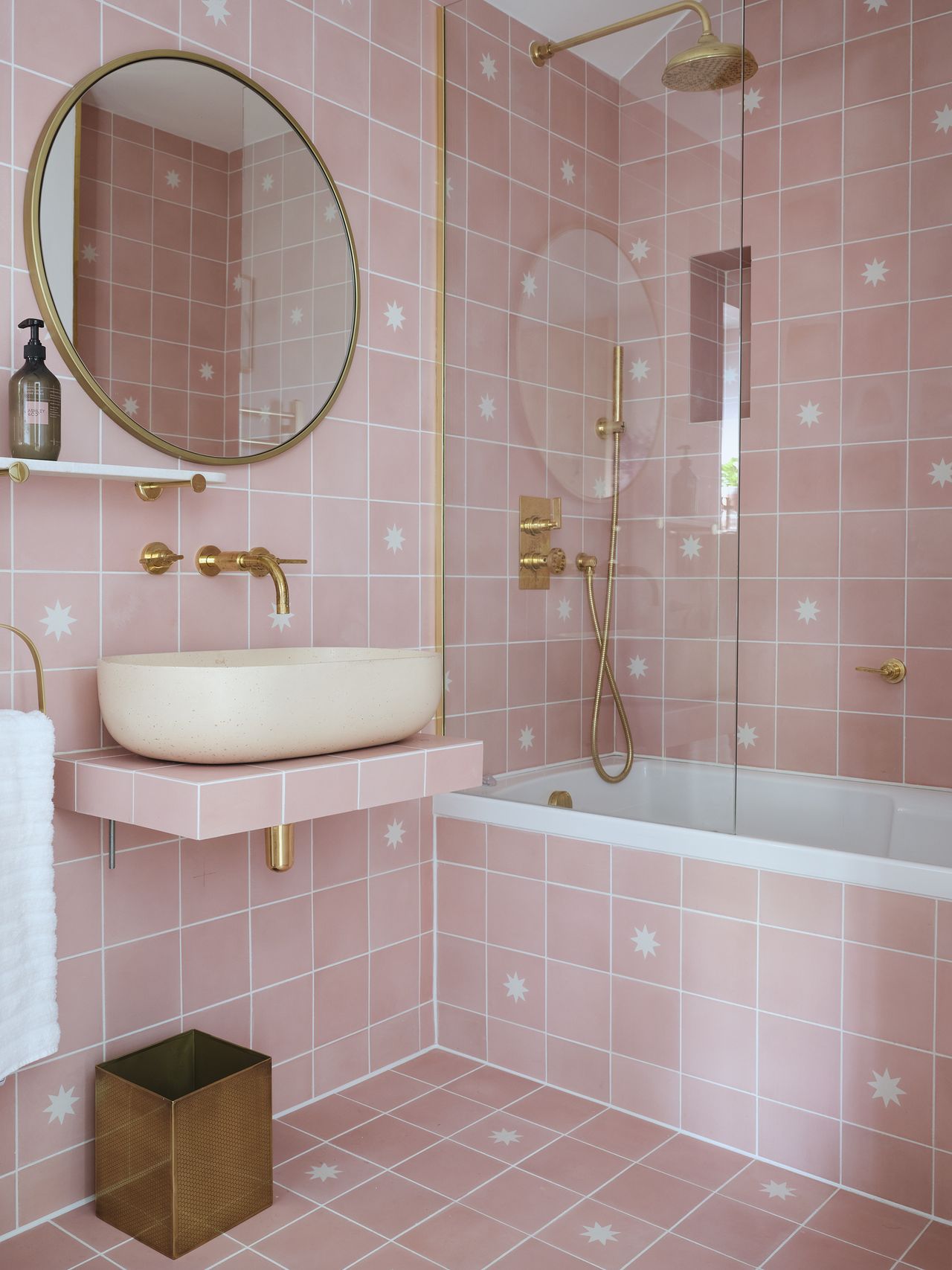 If you have a small bathroom then consider mounting a pedestal sink on a floating tiled bathroom countertop as a space-saving solution. Not only will a floating shelf instantly maximize floorspace, if covered in the same tiles as the rest of the wall, the shelf can blend seamlessly with the rest of the space giving the illusion that the room is larger than it is. If you are planning to use encaustic tiles such as these Luna pink tiles from Bert & May then they will need sealing to be suitable for use in wet areas.
5. Create a Moroccan feel with zellige tiles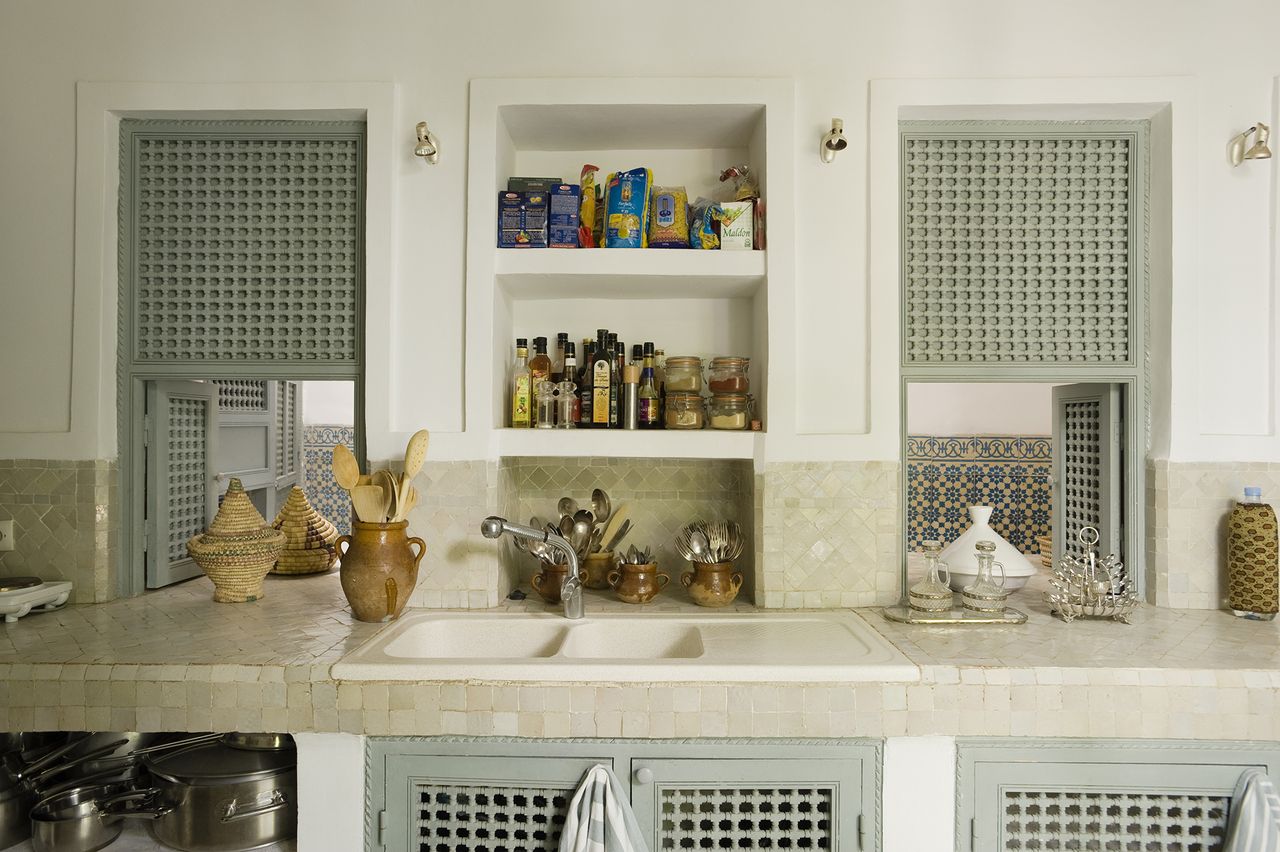 If you're planning to tile a countertop then zellige tiles make a beautiful choice due to their rich surface texture. Clay tiles handcrafted in Morocco, they come in an array of different colors from pearly grays to vibrant turquoise and boast beautiful variations in tone and texture. The handmade process means no one tile is the same, with each displaying differences in size, shine, depth of glazing, so when laid together they create a beautiful textural effect. Used over kitchen countertops, they're a great way to bring a Moroccan feel to a kitchen.
When it comes to installing zellige tiles, 'they are normally laid as closely as possible, but due to variations in flatness and thickness they will always have a little gap,' explains Jerome Miller, tile expert and advisor at Mosaic Factory. 'It's best to use cement-based grout suitable for thin gaps of around 0.5mm to 2mm and to water the grout down slightly.' 
6. Blend your countertop with your backsplash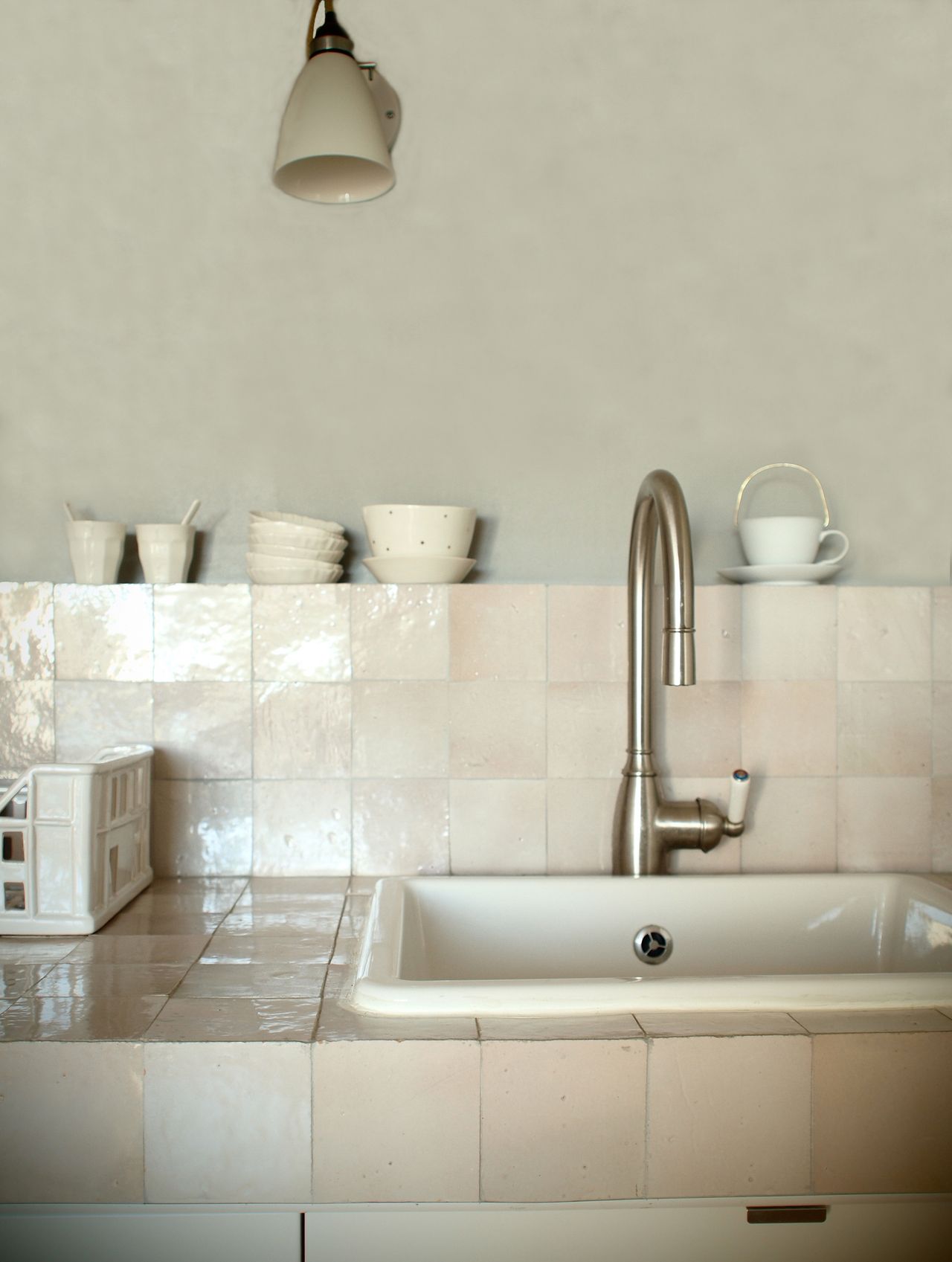 One of the key benefits of tile countertop is being able to match the work surface to your backsplash ideas to create a seamless look. 
If using handmade tiles such as zellige tiles, as pictured here, then you need to be prepared for some wear, explains Jerome Miller of Mosaic Factory. 'The variation needs to be factored in; the surface will evolve and there may be chipping,' he says, but this is all part of their natural charm as a handcrafted product.
7. Try small-scale penny tiles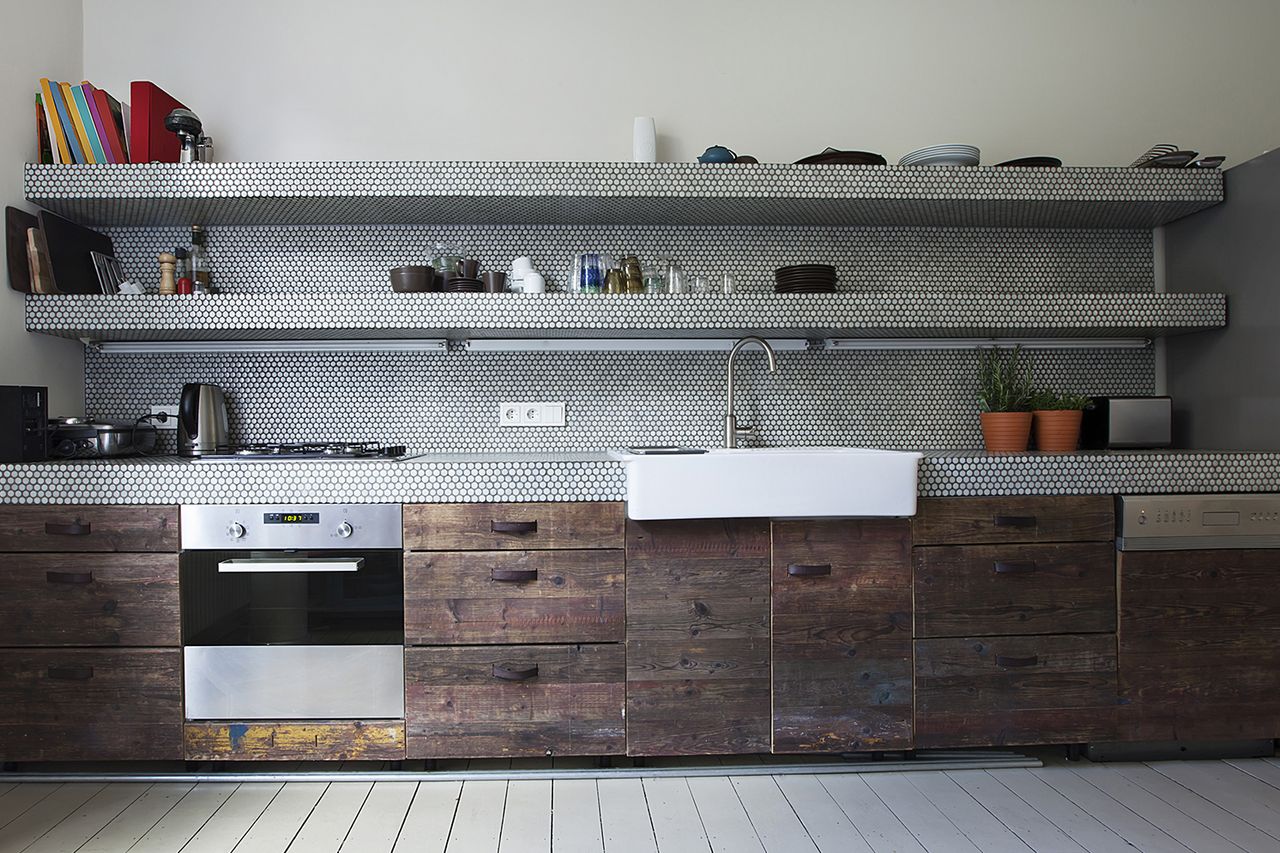 If you're looking to create texture then why not consider penny tiles? While they can create a pleasing decorative effect, tiny tile does have the drawback of having lots of grout lines which can be at risk of staining and are prone to collecting dirt and crumbs. If you like mosaic countertops then consider using them on a vanity unit under a pedestal sink in a guest bathroom where they will not be in constant use.
8. Bring texture with handmade tiles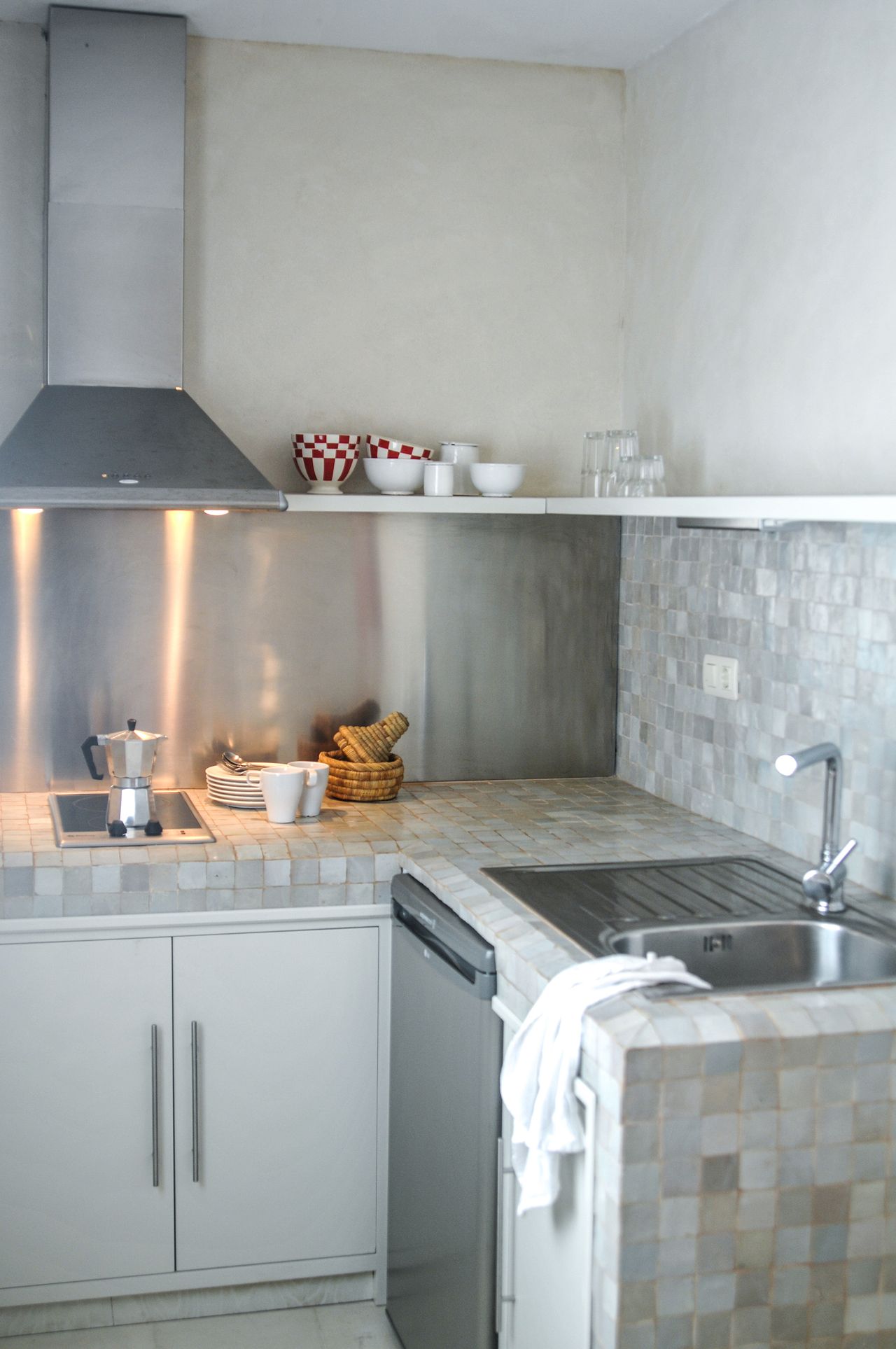 Experimenting with different combinations of surfaces and materials can create unique looks. If you have a kitchen with lots of stainless steel then adding a tile countertop made up of handmade zellige tiles can be a brilliant way to introduce rustic texture and balance the industrial feel. 
The key appeal of zellige tiles lies in their organic appearance and natural process of manufacture explains Jerome Miller of Mosaic Factory. 'There's a lot of depth to these tiles and they reflect light well, once the tiles have been installed their appearance and color will vary depending on the light and where you are standing in the room.'
Zellige tiles can also make great laundry room countertop ideas, bring texture and  character to these often under-decorated spaces.
9. Tile a countertop in a wet room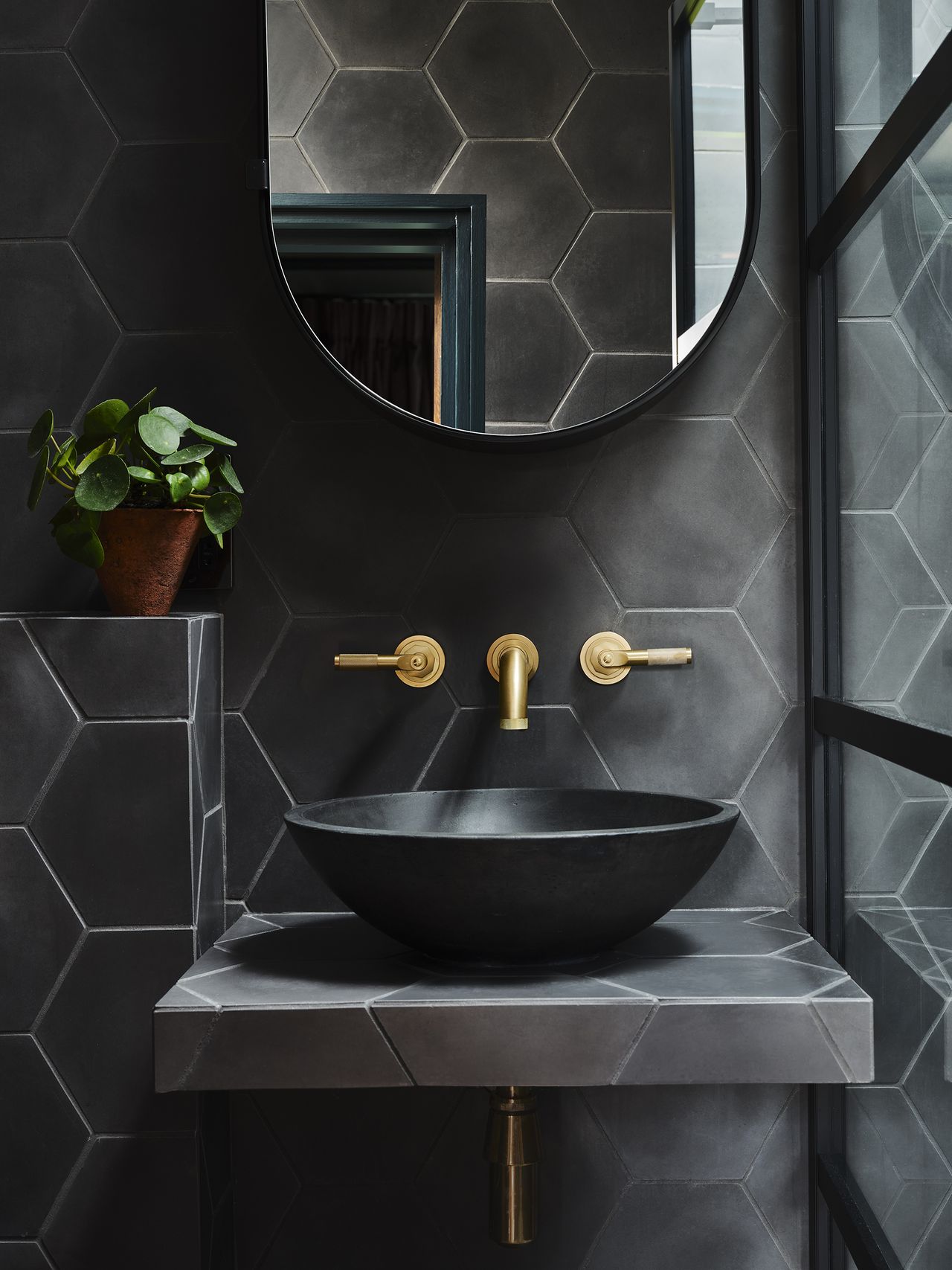 Wet rooms are areas of high humidity and moisture, so it's important to use the right materials for countertops. Provided they are non-porous or sealed, ceramic and encaustic tiles are a good surface solution for a wet room as they are water resistant and easy to wipe clean. To give a wet room a sleek appearance and to help it feel more spacious, try tiling all surfaces, including the countertop, in the same tile.
10. Make a statement with a tiled kitchen island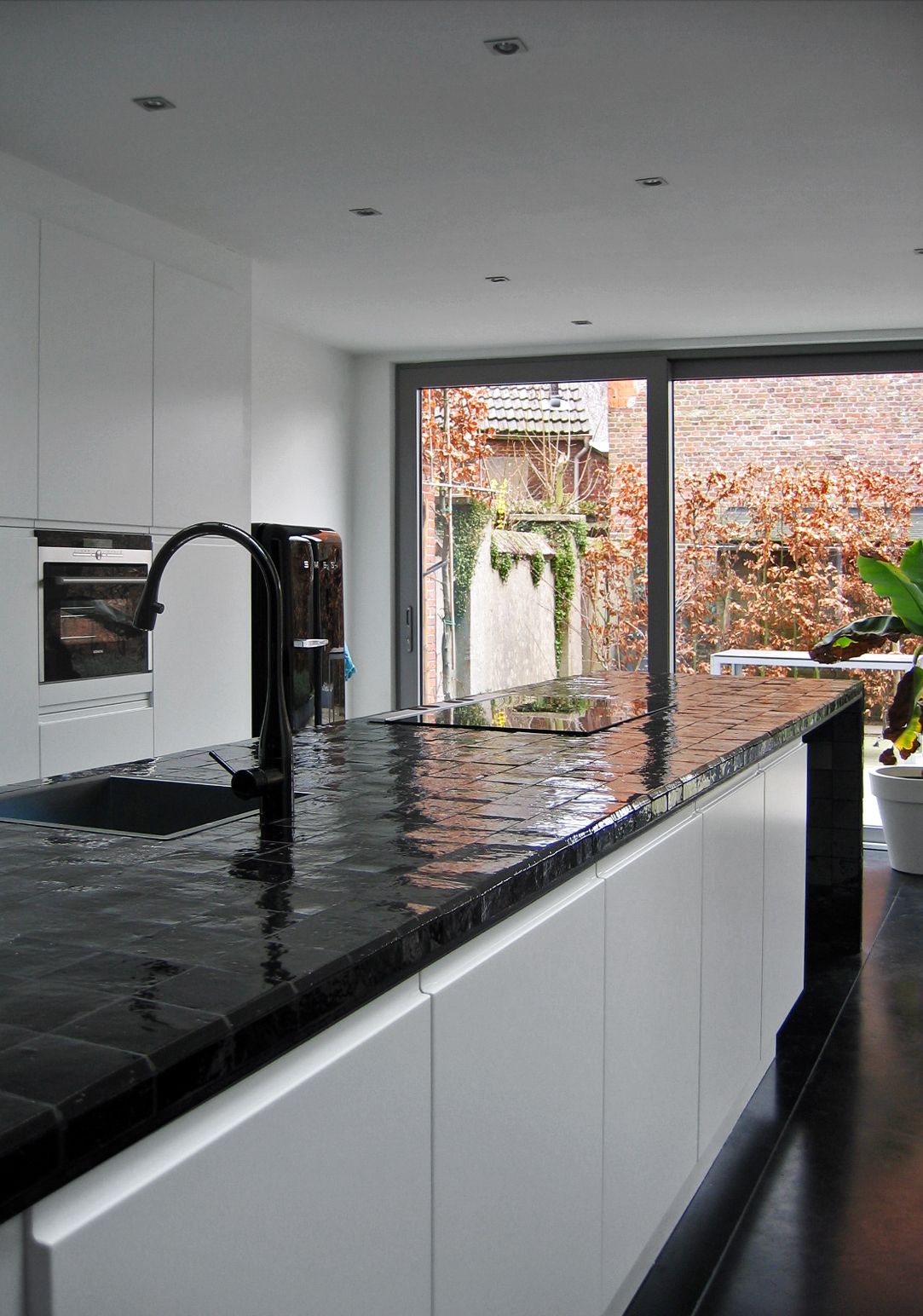 Tile can be an eye-catching device to make a feature of a kitchen island countertop – to add drama to a black and white kitchen consider black zellige tiles which have beautiful reflective qualities due to their handcrafted manufacture. Not only will these bring wow factor, they will also inject movement and life into spaces that can sometimes run the risk of looking a little harsh and soulless.
Are tiles good for countertops?
Tiles can be a fabulous way to bring a decorative look to a countertop, offering the chance to create myriad unique looks, but there are some drawbacks. While they can be easily wiped clean, glazed ceramic tiles can crack or chip with heat or impact from heavy items causing them to need replacing; porcelain is a far tougher option. 
Tile countertops also have grout lines which can become stained with spills, so it is worth bearing this in mind if you are considering them for a kitchen countertop. 
To help prolong the life of your tiled worktop, 'it's important to use a resin-based grout that is stain repellent and non-absorbent. This is key to ensuring your worktop is protected from marks and stain,' explains Harriet Goodacre. 'You'll also need to make sure the grout is completely flush and level with the tiles, otherwise you run the risk of food collecting in the ridges where your grout sits, making cleaning them quite difficult.'
It's important to note that surfaces tiled in handcrafted tiles will 'never be completely flush – this is not so much of an issue for countertops but may cause problems for tabletops,' explains Jerome Miller of Mosaic Factory.
What tile is good for countertops?
When it comes to what tile to use for countertops, and in practical spaces such as kitchens and bathrooms, porcelain tiles are often hailed as the best choice as they are hugely durable, stain resistant and easy to clean. 'A porcelain tile is a great option for bathroom spaces as they require no sealing and most bathroom cleaners can be used to keep them looking their best – a porcelain tile can also be used in conjunction with a epoxy resin grout which ensures the grout lines remain free from discoloration and any dreaded black mould,' says Isabel Fernandez, Director at specialist natural stone company Quorn Stone.
Zellige tiles are also becoming increasingly popular for countertops as a way to embrace the handcrafted look and texture within interiors, plus they are made using an eco-conscious process.