By Amy Burger Special to the Post-Dispatch

All of the homes in Lafayette Square have a unique history, but the 1877 row house of Larry and Andrea Huegatter has a particularly interesting pedigree. It was built by Horace Bixby, a renowned steamboat pilot and captain who taught Mark Twain the art of piloting. The two were lifelong friends, as noted in Twain's book, "Life on the Mississippi."
The Huegatters, both originally from Houston, purchased the house in 2001 after living for stints in Kirkwood and then Creve Coeur, raising their two daughters there. When their girls were older, they decided to try moving to the city and began a home search. They had always been fans of the Lafayette Square neighborhood, which was just beginning its renaissance at the time.
"As soon as we walked in the door, I said, 'This is it, this is the house.' It just spoke to me. I've never walked in a house and felt that way," Andrea says.
The owners, who were restoration pioneers in the neighborhood, had several offers on the home, but Andrea wrote them a passionate letter explaining how much she loved everything about the house and its history and ensuring them that they wouldn't try to change it or tear out walls. Their offer was accepted.
The house had been well preserved, though it needed some basic renovations. As soon as the Huegatters moved in, they began working on projects and haven't stopped since. Larry redid all of the flooring and painstakingly restored areas of plaster molding along the ceilings that were damaged or missing. Andrea made new period-appropriate draperies for every room.
The Huegatters' curation of the home also evolved the more they learned about Horace Bixby. Their youngest daughter, Katherine, now a history specialist and education program coordinator for Washington Crossing Historic Park in, Pennsylvania, began doing some research and uncovered a great deal of fascinating information on Bixby and his company, Anchor Line, which operated a fleet of steamboats on the Mississippi River between St. Louis and New Orleans.
"We decided to let the first floor tell his story. So we have some of our antiques mixed with a lot of photographs and memorabilia of Bixby," Andrea says. "We think of ourselves as caretakers of the house, and that's why we have not gutted it, but restored it. It's a wonderful piece of St. Louis history and the riverboat time."
Among their collection is a "cub" steering wheel from Bixby's very first boat, historic photos, steamboat themed artwork and a copy of a letter from Bixby to Twain in which he writes "… today I have one of the nicest around Lafayette Park," referring to the house. They also have items with Anchor Line's large anchor logo. Larry even etched the logo on a piece of glass for the transom window above the front door.
"I developed this fascination with those steamboat pilots, and Bixby was one of the best," Larry says. "Their skill and intelligence level was almost super human."
Like many homes in the historic neighborhood, the Huegatters' was once a boarding house, with each room a separate living quarters. Now restored to a single-family home, it features loads of architectural features of the period including high ceilings, ornate crown molding, oversized pocket doors and seven fireplaces.
Longtime antiques collectors, the Huegatters find pieces all over, including local antiques shops, as well as on eBay and other sites. They have a particular affinity for carved wood pieces from the Brittany region of France. One such piece, a large hutch found on eBay through an antique shop in Houston, was the inspiration for their 2016 full kitchen remodel.
They purchased the intricate hutch and designed the new kitchen cabinetry around it, making it the centerpiece of the room. To complement it, Larry created a center island out of an antique carved wood buffet they found in Memphis, Tennessee. He stained and cut a wood stair tread to match and mounted it on the back as an extension for dining. Wheels on the bottom allow the entire piece to be moved into any room on the main floor for entertaining.
"We just love old stuff and repurposing," Larry says.
He did more repurposing in the butler's pantry between the kitchen and dining room, designing cabinetry around a set of long wood drawers salvaged from the Central Library in downtown St. Louis. He found the drawers, which had been in the library's periodical section, at Regans Architectural Salvage.
More than 20 years after moving in, the couple is still working on remodeling projects on the second and third floors of the home.
"It's been a labor of love," Andrea says. "We hope young people will be inspired that you can do this — you just do it a little bit at a time, room by room."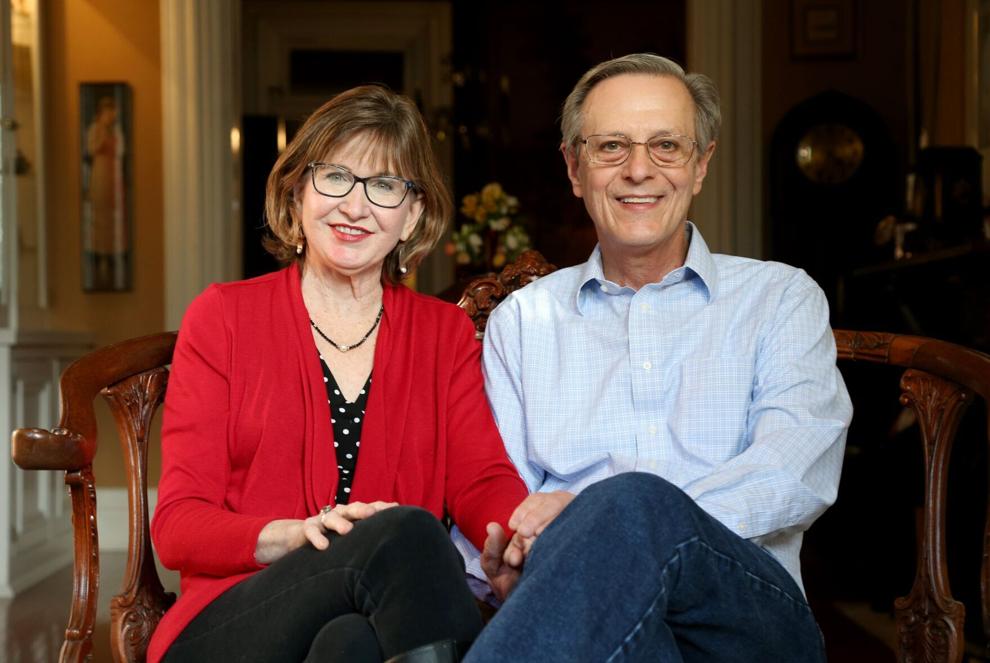 Larry and Andrea Huegatter
Ages • He is 68. She is 65.
Occupations • Larry is a process safety manager at a pharmaceutical company. Andrea is owner of Looking Glass, a custom gifts company. She previously taught at Washington University for 18 years.
Family • The Huegatters have two adult daughters.