You might not think your garage floor can be one of the most hardworking features in your home. But once armed with the best garage floor ideas, you might think twice. 
If you're the owner of a garage, you'll know how busy these zones can be. Whether you use yours to store your car, if you're considering converting a garage, or if you've already turned yours into a fully-equipped at-home gym… As Zara O'Hare, from Land of Rugs tells us, your garage floor needs to be durable and built for purpose, and one of the places to start is with flooring. 
O'Hare says, 'When it comes to garage floors, you will find that most materials work really well, however there are certain things you should avoid if possible. I would recommend repairing a concrete floor if this is cracked or damaged in any way, especially if you have cars moving on the floor on a regular basis. Also make sure you are not relying on a wooden base for your garage floor as this is simply not strong enough to hold the weight of your vehicles, tools and other stored items. If you are using floor paint, make sure this is specialized garage floor paint as other paint will just flake off.'
Turning your garage floor into something special 
Here's the good news: the best garage floor ideas are easy to recreate – in fact, with a little guidance and know-how you can even put your DIY skills to good use and revamp the floor yourself. 
Sylvia James, interior designer from Homehow says, 'Generally speaking, it really is relatively straightforward to do your garage floor, there are just a few things to bear in mind before getting started. 
'Make sure you know what type of floor you have and that any products you get are specifically made for that floor type. You should also keep in mind the size of your garage, as to save money you don't want to spend too much on unnecessary materials. 
On the other hand, you don't want to underestimate how much product you will need, so simply make a note of how big your garage floor is and work out how much you will need. 
It is also advisable not to rush into doing your floor until you know the floor is ready. Simply cleaning the garage floor before starting is a simple yet crucial step to take. As concrete floors are porous, they can appear clean but be hiding lots of dirt and grime, making painting over it incredibly difficult. 
My advice is to use a pressure washer to guarantee as much dirt is removed, or just use a scrubbing brush and warm, soapy water although this will take longer but will provide similar results.'
So, to make the most of your floor, we've rounded up the best garage floor ideas with expert tips and tricks to take note of. 
1. Go for solid concrete flooring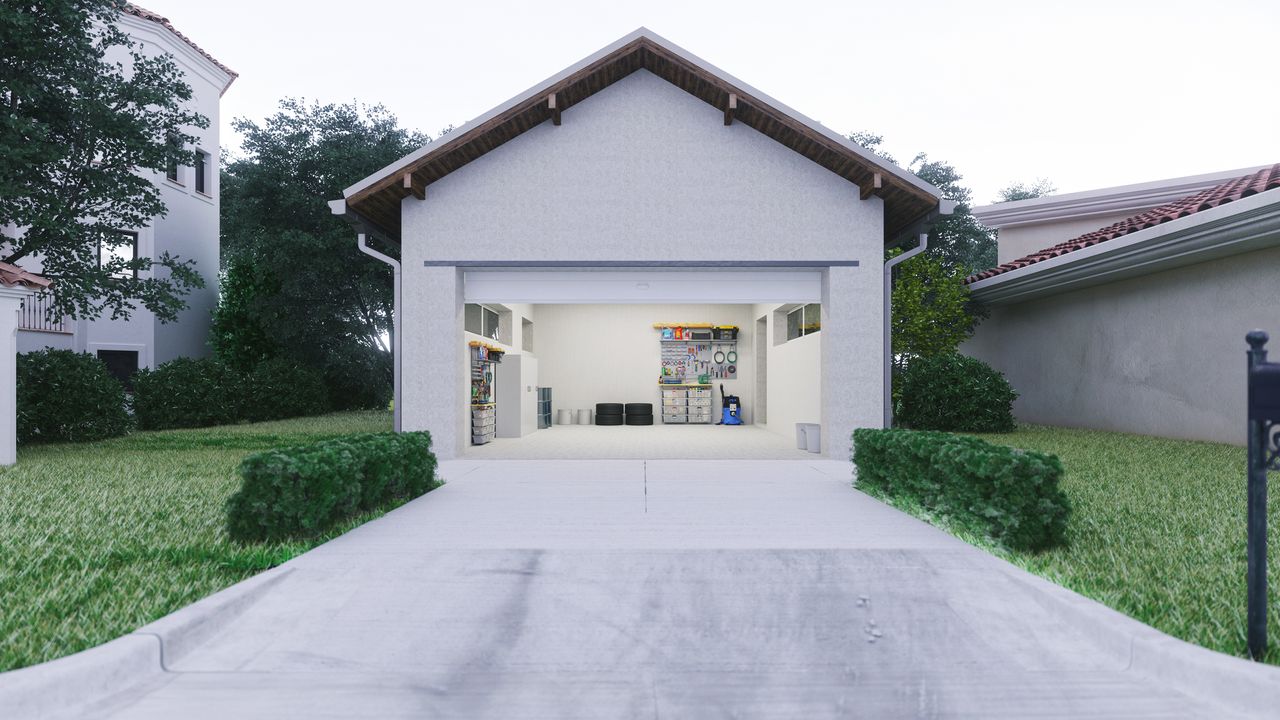 Concrete flooring is nothing new. In fact, concrete dates back to the 19th century. But since 2020, this durable, elegant, hardwearing and easy-to-clean material has steadily become more mainstream, being used as both a contemporary and traditional home design. 
And according to James, concrete flooring is the best option for your garage. 
James says, 'The best floor for a garage is solid concrete flooring, which is not only resilient and heavyweight but is easy to clean and maintain. Garage flooring has to cope with high pressure and general wear and tear, it should be as durable and heavyweight as possible, and able to withstand outdoor conditions.'
2. Paint your floor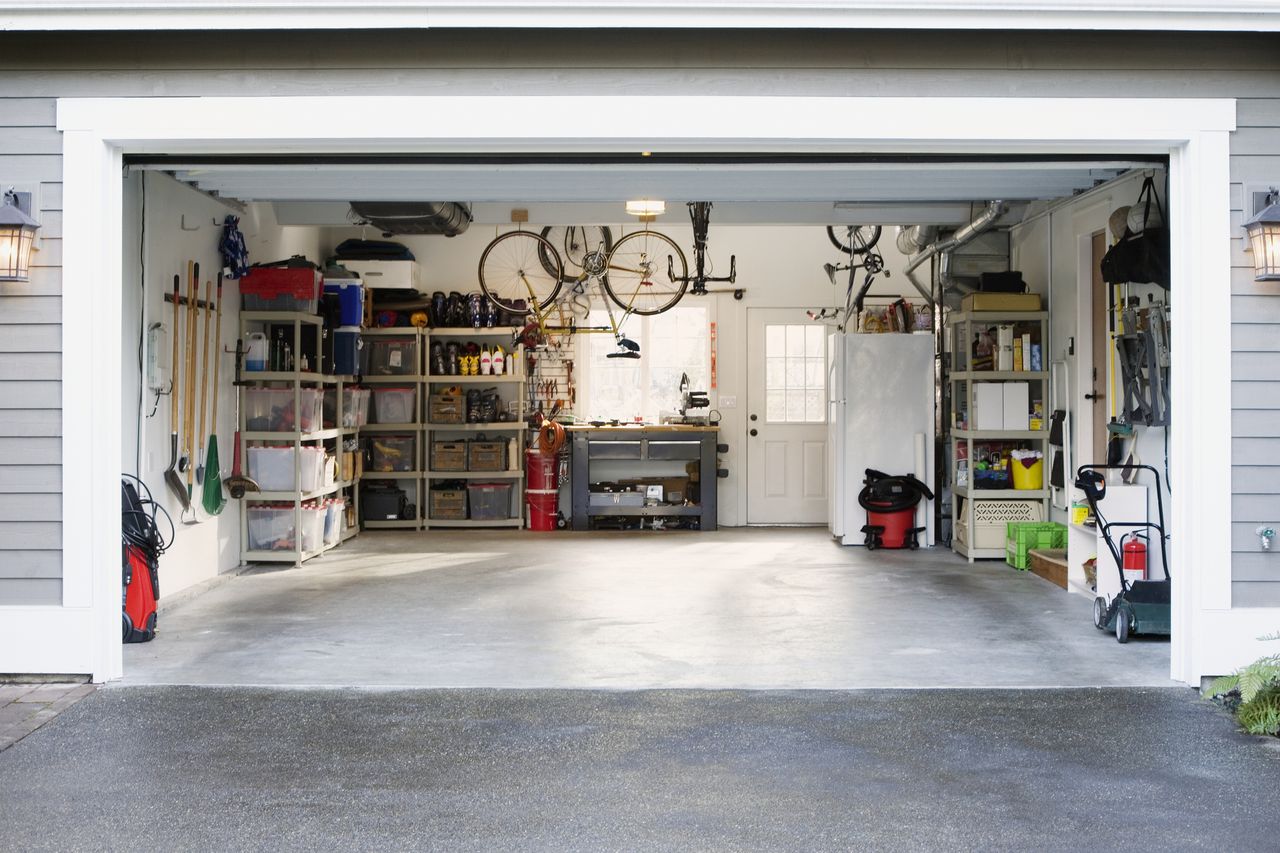 Painting a garage floor is a job you can easily do yourself so you won't need to call in a contractor. You can paint a bare concrete floor, but it's also possible to give a new lease of life to a previously painted floor. 
James tells us, 'Another simple and inexpensive way to upgrade your garage door is to paint it. Concrete floor paints are a quick and easy way to give new life to your floor and do not take too much time or effort.' As with all painting jobs, good preparation is key to success. 
3. Coat it with Epoxy resin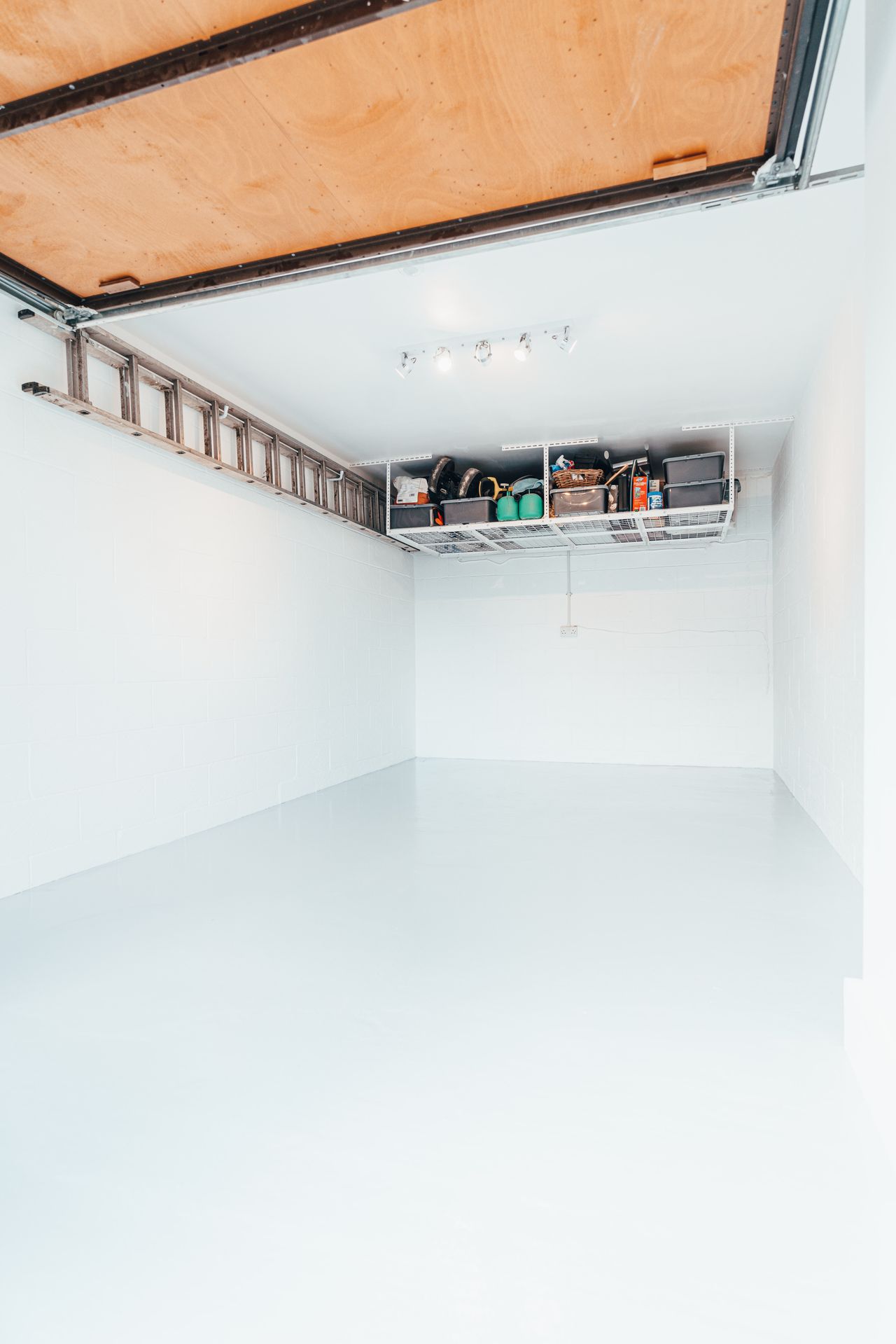 Resin flooring provides a super durable and lasting floor solution. So you can see why it's common in the automotive industry. 
As Saskia Oakley from Resincoat explains, 'Epoxy resin is great for a garage floor as it's exceptionally durable and therefore can withstand heavy foot & vehicle traffic. 
'It's also chemical and petrol resistant. Additionally, it offers a high gloss, professional finish that is easy to clean creating a usable space for your garage. By coating it with an epoxy resin floor coating. This will brighten up the space as well as eliminate any dust and dirt.'
4. PVC interlocking tiles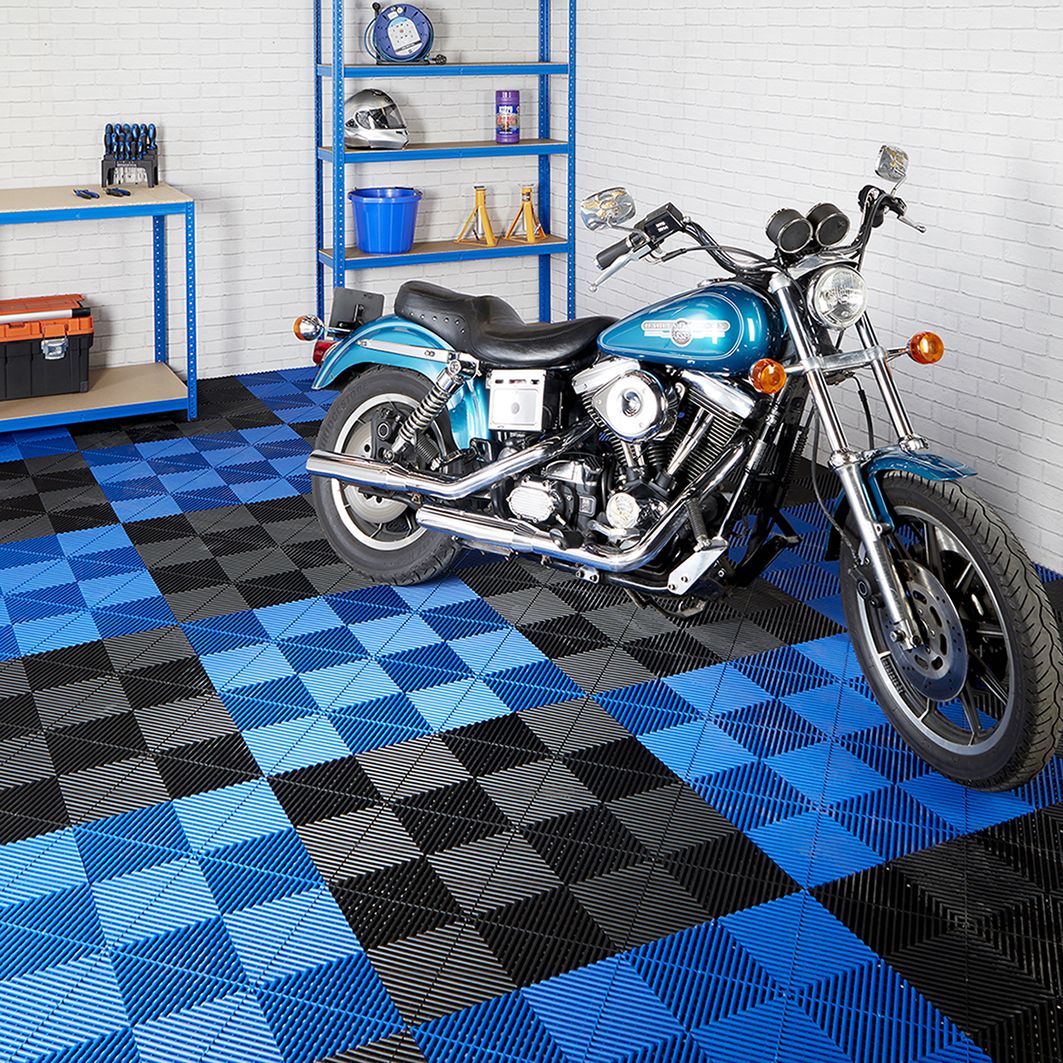 One of the best ways to refresh your garage floor on a budget? By laying some interlocking floor tiles. 
Matthew Whittaker at BiGDUG says, 'Interlocking floor tiles are very popular. Value interlocking floor tiles offer a budget-friendly solution by using recycled materials to produce with a high-quality finish. All tiles come with simple-to-follow instructions that can be easily installed without any prior experience. On the whole PVC interlocking floor tiles are hardy and will protect your floor from chemical and oils spills. If you plan to subject your garage to a lot of moisture such as a detailing or wash-bay, then we would recommend a vented floor tile to allow the moisture to drain away. 
'You'll need a rubber mallet, a tape measure and a jigsaw to cut the tiles into the perfect fit, most are dry lay and their weight holds them in place so the more snug, they are the better.'
5. Use a stencil
Give your garage floor a glow-up by getting creative with a stencil. 
Lisa, home staging consultant from Stylize, says, 'One easy suggestion to give now the spring is here, is to make use of fabulous stencils you can buy online.'
To do so, Lisa recommends: 
1.    Prepping the floor with a good clean.
2.    Prepping the floor with a sealer.
3.    Painting the floor with a good quality exterior primer with several applications.
4.    Painting with floor with your chosen color with several applications until the correct vibrancy is achieved.
5.    Painting in a stippled manner to create the stencil effect.
6.    Sealing with a strong and good-quality exterior sealer. You can use epoxy resin or use gloss yacht varnish for extra protection.
6. Make use of vinyl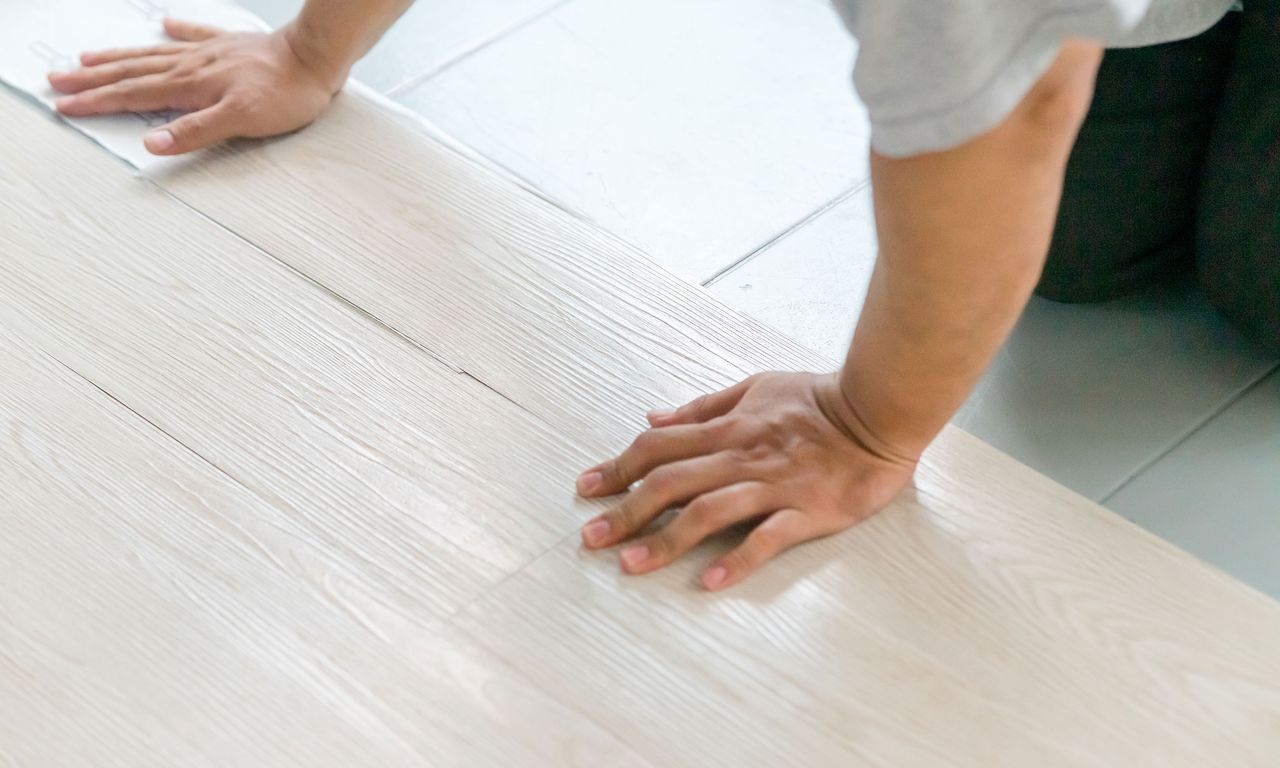 Nowadays, the market is flooded with sophisticated, stylish and durable vinyl flooring designs that are mostly easy on the pocket too. As well as being highly insulating for both heat and sound, vinyl is one of the most affordable types of flooring materials available, alongside laminate. 
And, according to Chris Harvey, interiors expert at Stelrad , 'Vinyl flooring is the easiest idea in terms of installation. Vinyl flooring is a synthetic material that can be positioned on top of your previous flooring to cover marks or bumps.'
7. Pick studded PVC flooring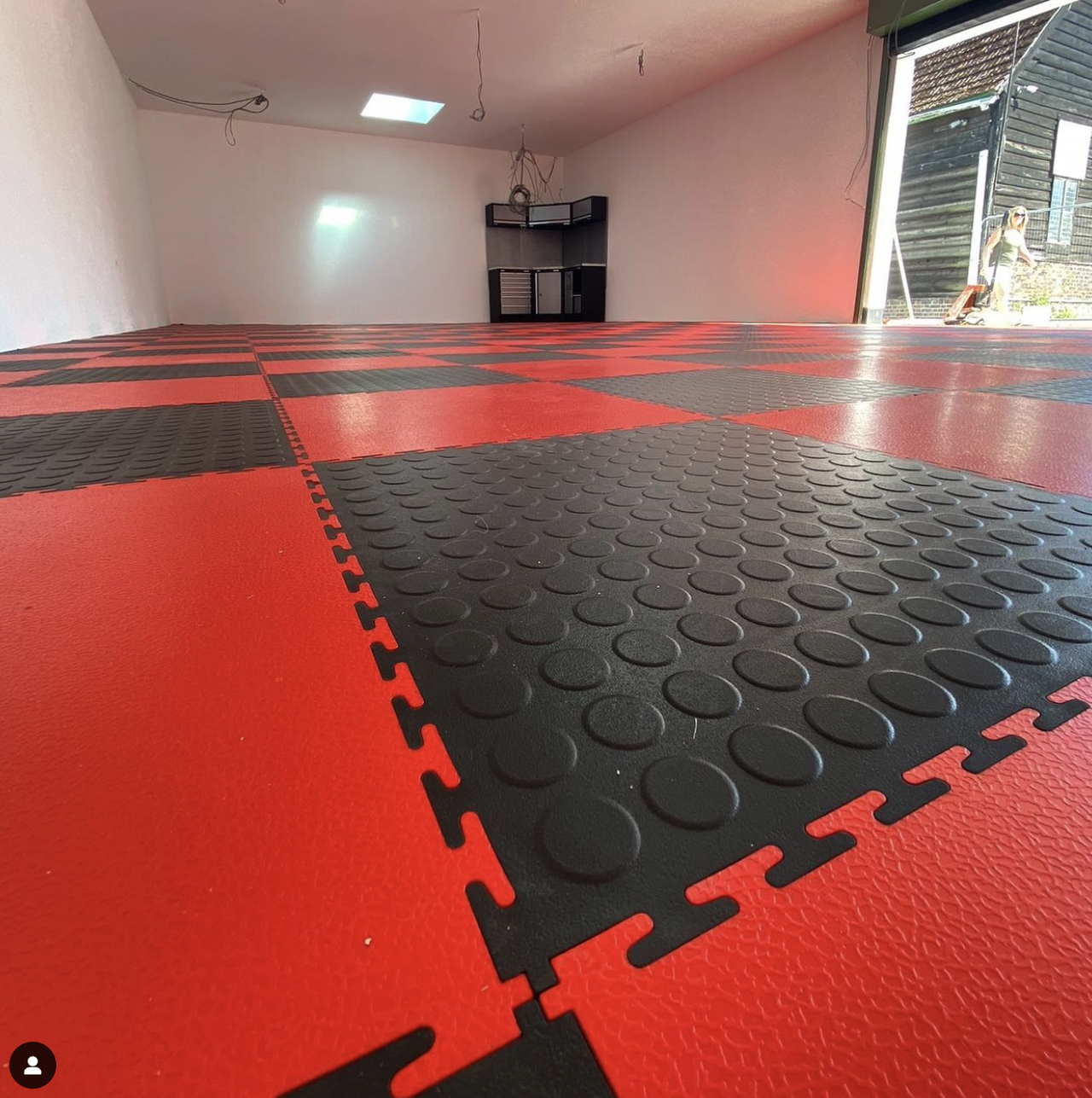 Durable, contemporary and practical – rubber flooring is a popular choice for high-traffic areas such as a garage. 
Harvey says, 'This flooring is also super easy to install. Simply roll out onto the floor and cut around any edges to make an even finish. PVC is very durable and the studded texture adds a lot of grip to the floor ideal for a garage or workshop.'
8. Select durability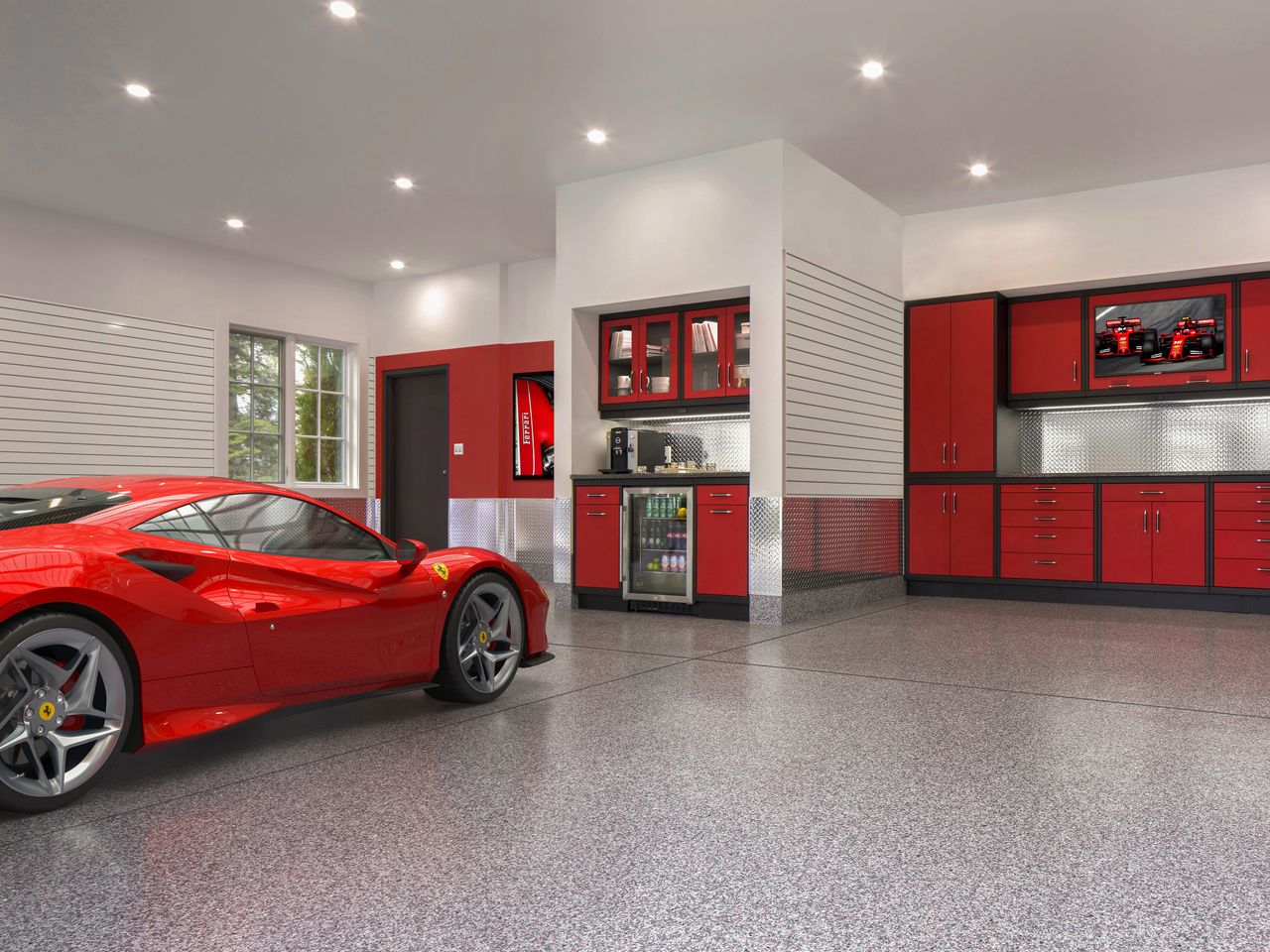 Perhaps the best decision you can make when it comes to your garage floor is to invest in a professional fit. Especially if it sees a high footfall. 
As Aaron Cash, co-founder of Garage Living says, 'A professionally installed garage floor will provide the best, longest-lasting solution. Garage Living recommends using Floortex™ – a Polyaspartic floor covering with a base prepared using a five-step diamond grind process. This process has been refined since 2005 and used successfully on thousands of garage floors to provide the highest durability in all climates.'
How can I make my garage floor look better?
Although you might not see your garage every day, there are still a range of ways you can make your hardworking space look nice. And it starts with your garage floor. Nowadays your garage need not be a place that's left as an afterthought. Especially with a range of easy-to-DIY options or professional looks which will really make a difference to the whole look and feel of your space. 
But don't just take our word for it. Aaron Cash, Co-Founder of Garage Living says, 'Finishing the garage floor will provide visual appeal, particularly when selecting from a variety of décor color options.'
While Sylvia James, interior designer from Homehow, says, 'Other than having a complete garage renovation, there are many easy options to improve the look of your garage floor. Firstly, you can opt to simply cover the existing floor with resilient and durable tiles or mats. Tiles have interlocking edges and are easy to place on the floor, so won't require much effort on your part. Mats are similar in their ease, as you simply lay them down on the floor and are easy to maintain. 
'Whether you choose tiles or mats, make sure you bear in mind the type of material. Rubber or vinyl are the best options, as they are both durable and can withstand high pressure.'
How can I cover my garage floor on a budget?
According to our garage conversion guide, when it comes to flooring, you should budget in the region of $32/£25 to $130/£100 per square meter. But of course, this can fluctuate when it comes to the region you are in, contractors you use, the quality of the flooring you opt for, and whether you do the work yourself. 
Cash says, 'Hiring an expert will always save money as the garage floor will be completed properly the first time around. Relative to other home improvement projects, the investment's value is high for what often is the largest open room in a home. Over time concrete starts to deteriorate if not properly sealed. As a result, you should budget for the potential cost of hiring professionals to repair concrete plus re-finishing your garage floor down the road.'
While if you are going to refresh your garage floor yourself, Saskia Oakley from Resincoat recommends using a water-based epoxy floor coating. Oakley says, 'Whilst these coatings aren't as durable as high build epoxy resin, they're great value whilst still offering a smooth, professional finish. Resincoat's water-based floor paint offers a smooth silk finish.'
If you have decided to conquer your garage flooring yourself, the tools required will depend on what covering or coating you go for.
James says, 'If you are choosing to cover your floor with interlocking tiles or a large mat, then the tools required are minimal'.
 You will need:
– A measuring tape
– A 30cm ruler (ideally a durable metal one)
– A rubber mallet to help secure the tiles in place 
– Chalk
– A Stanley knife, to cut tiles if needed 
– Adhesive or tape to stick the tiles or mat down
If painting your floor, pick up a: 
– Paint roller and extender