There's a lot of focus given to your kitchen cabinet colors. But the walls often take up just as much visual space so choosing the shade deserves just as much attention. So how to approach choosing colors for your kitchen walls and which hues are the right ones for you, your home, and your interiors?
Your kitchen color choice is extremely personal, but there are considerations and tips to take into account before you make your final decision. We have asked the experts if there are any rules or design scrutiny that could help us to make the best decision to ensure we create a kitchen that reflects personal style but is also liveable and has longevity. 
9 kitchen wall colors to inspire
When it comes to a kitchen, you want the look to be classic, to stand the test of the ever-changing interior design trends. But your kitchen walls are perhaps the easiest space to get a bit more experimental with color trends since it's far easier to switch out your wall color than your cabinet color. So with that in mind, here are plenty of designer-approved kitchen wall color ideas to inspire. 
1.Try the color drenching trend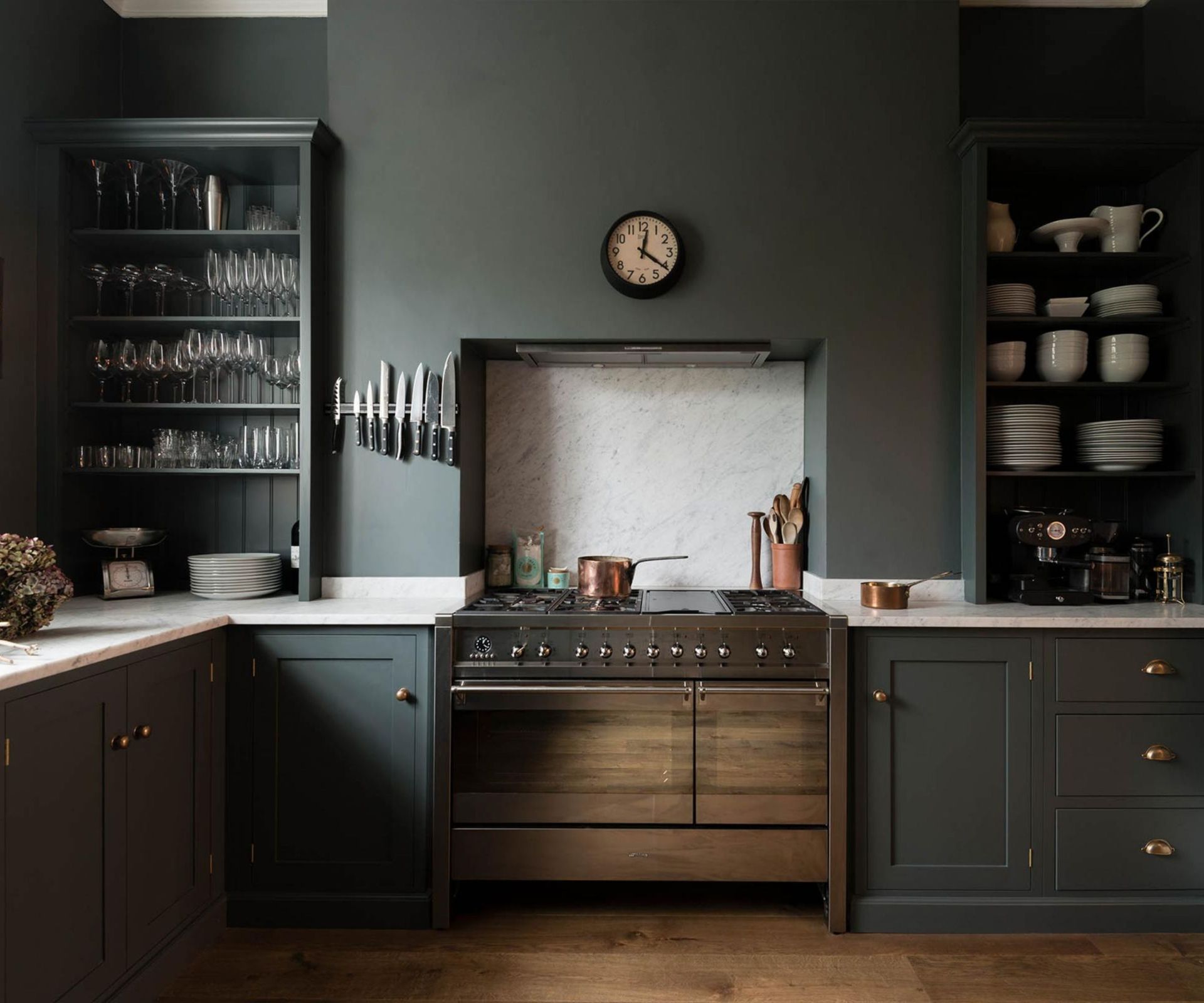 Absolutely on trend, color drenching is choosing to paint your walls the same colors as the cabinetry, creating a room that is drenched in one bold tone. This design concept is dramatic and bold and not for the faint-hearted. It will simply resolve any question of which color to paint your walls, because once you have selected the tone you want on your kitchen cabinets, then you simply continue to use this hue. 
'The all-encompassing color creates an atmosphere of calm where nothing is fighting for dominance,' advocates, Helen Parker, creative director at deVOL, explaining that, 'Painting your walls and cupboards in the same color is a true commitment and will reward you with a cohesive and always impressive look.'
2.Go two-tone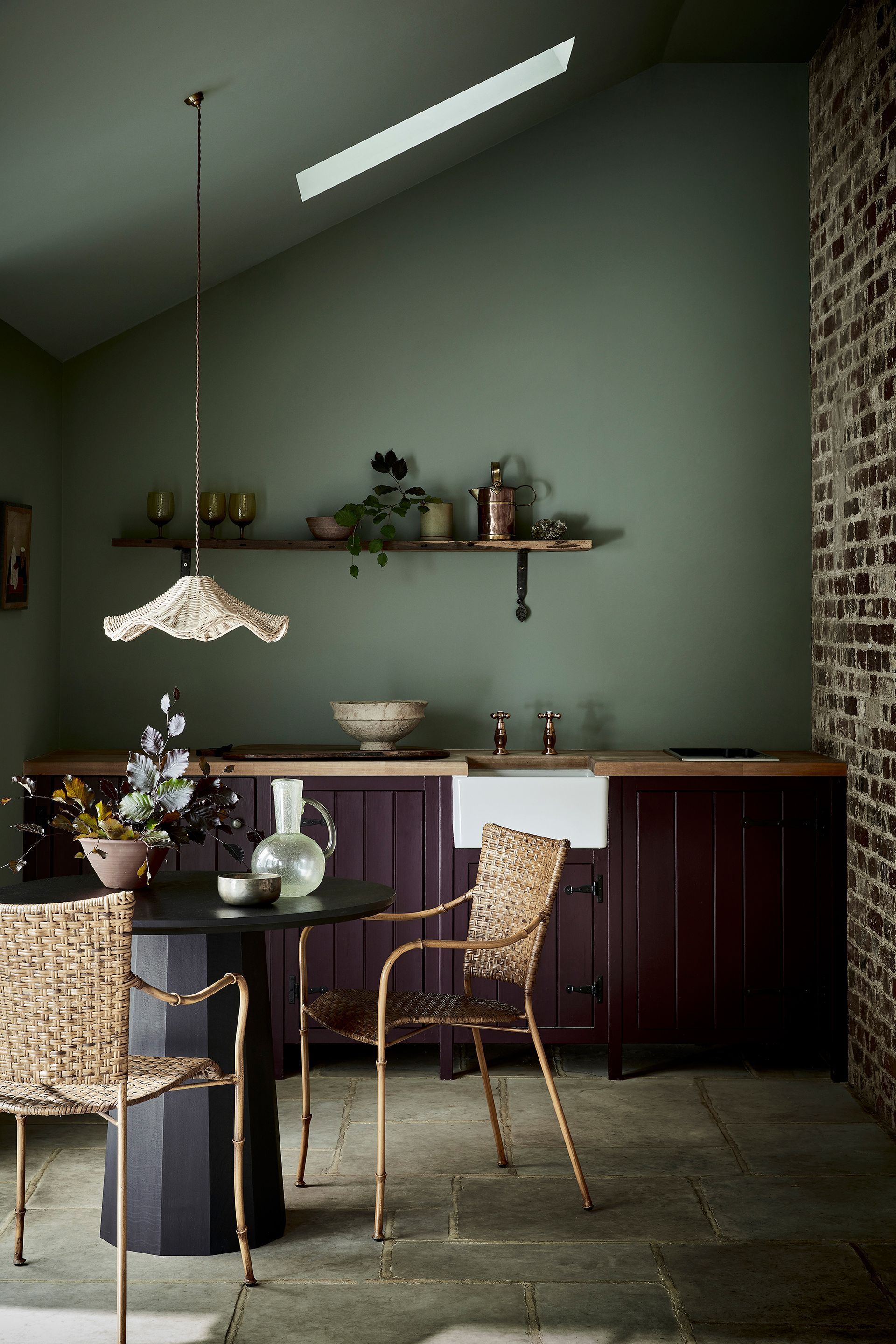 Individual color choice is dependent on the overall feel that you are looking to achieve, is it bold and confident, calm and coordinated, or is it a mix of the two?
'The kitchen is often the hub of the family home, usually a place of activity, the heart of family life, whatever the size. A kitchen, therefore, is an ideal place to make more adventurous and energetic color choices and certainly, the space where you can really experiment with vibrant colors.' says Ruth Mottershead at Little Greene.
Combining two colors is a clever way to enjoy a vibrant two-tone kitchen color scheme. Choosing two colors that you like and that complement each other will work beautifully in a kitchen, with one on the wall and the other on the cabinets. 
Ruth adds, 'If you have a small kitchen, embrace the space and create a dynamic color scheme by adding one color to the lower cabinets and contrasting colors for walls and upper cabinets.'
3. Add a focal point with a mural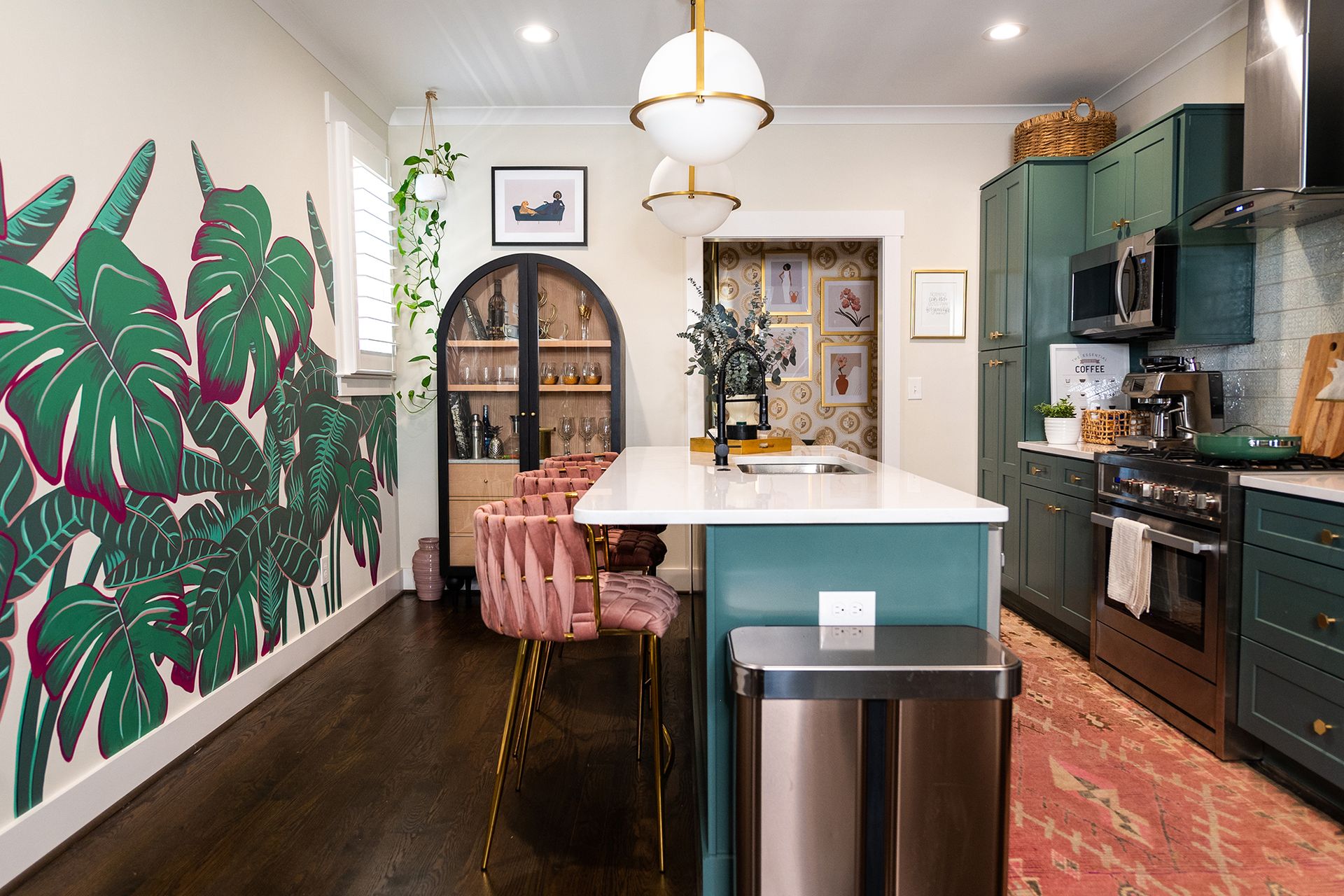 If you want to make more of a statement with your kitchen walls, consider incorporating a kitchen mural, an original piece of art, directly into your home.
If you dream of having a kitchen that is totally unique then having a mural painted on a wall will ensure you get just that. Murals are created by an artist, who specializes in drawing on large expanses, but a mural can also be produced using large decals.
Interior Designer Amber Guyton from Blessed Little Bungalow decided she wanted a mural in her own kitchen and invited a local artist to hand paint a botanical mural on a neutral wall, she requested that the artist include several of her favorite plants.
'I wanted to give the space some personality and a pop of color. I also selected other colors, including magenta, seafoam green, and blush to complement my counter stools in the mural to add more color and funkiness to the space. I think the color additions have enhanced my kitchen without making it feel smaller or darker with the color added.'
4. Decorate with colors you are drawn to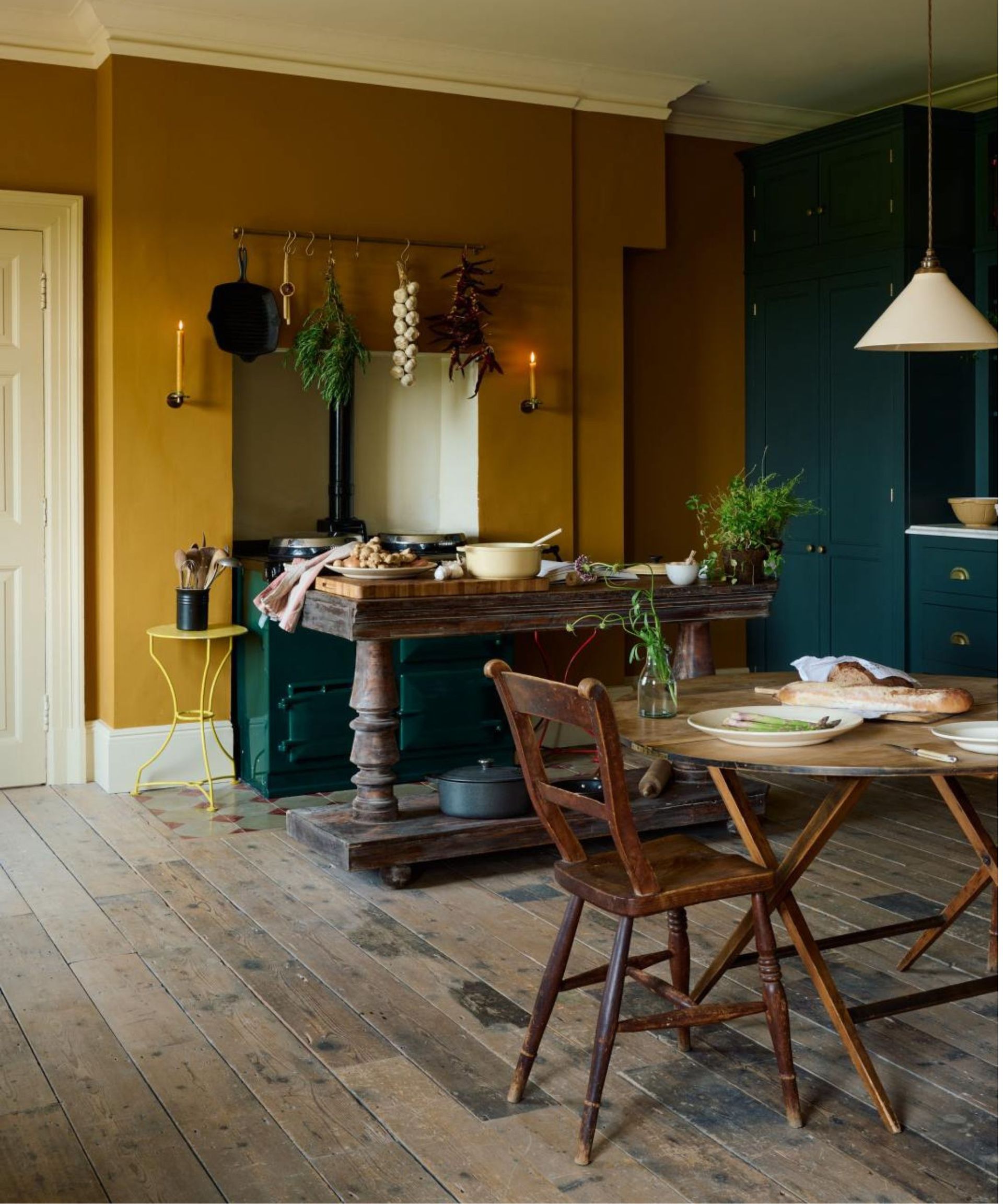 The energy created in a kitchen ensures that it is often one of the most dynamic rooms in the home, and this vital sense of action provides you with the opportunity to go bold with your color choices, the kitchen can definitely handle it.
Andy Greenall, creative director of Paint & Paper Library, agrees, 'Open-plan kitchen and dining spaces are often a hive of activity, serving as the hub of the home for family members and a welcoming entertaining space for guests. It's wonderful to reflect this energetic and inviting atmosphere with engaging color choices.'
Choosing your tone is a personal decision, but meanings associated with bright colors include red: passion and excitement, blue: wisdom and hope, purple: noble and glamorous, and orange: warmth and kindness. Do any of these bright colors and their associations resonate with you? If so, you may find it helps you to make a decision.
5. Create a tonal look with layers of neutrals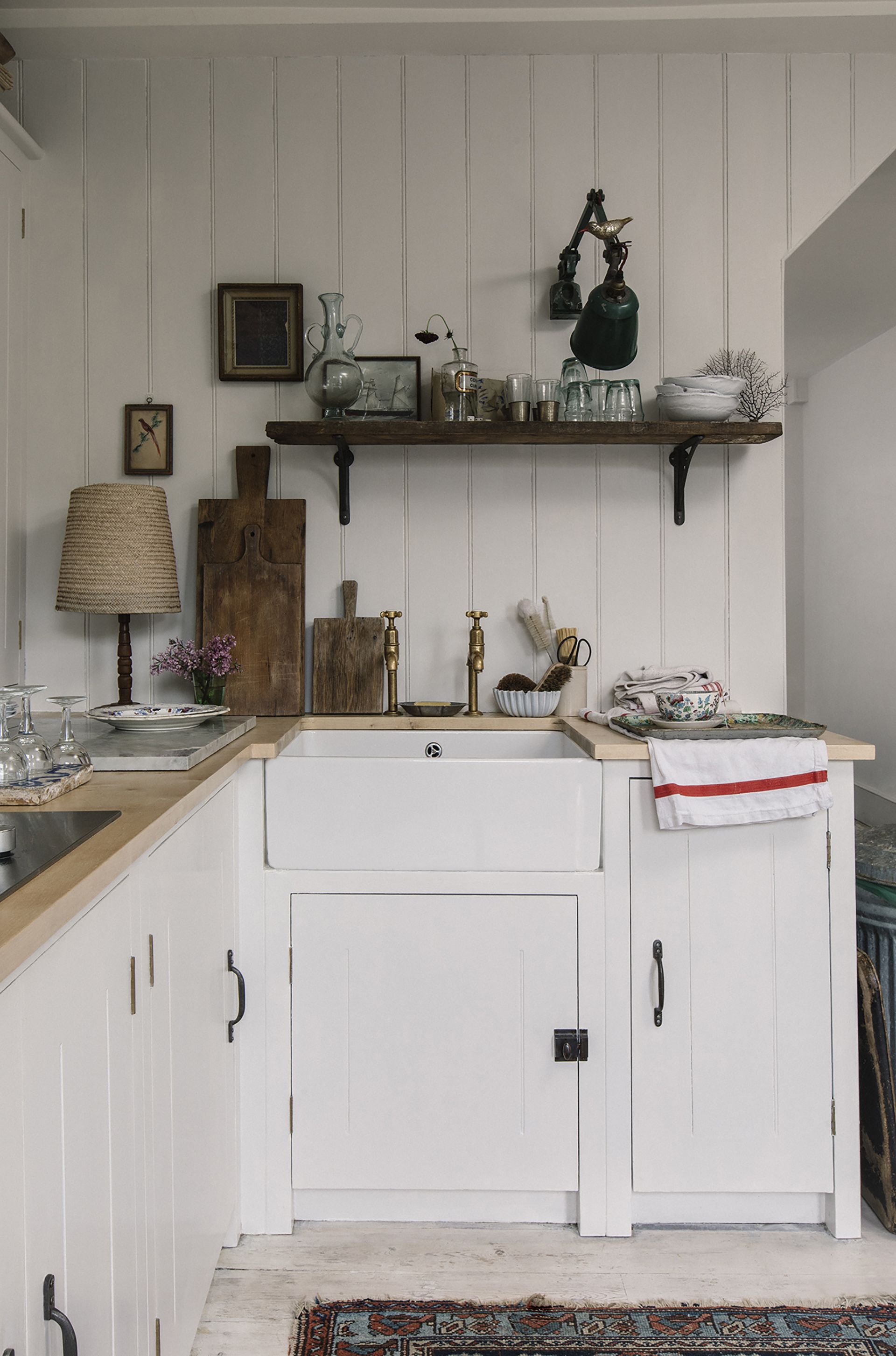 To generate a kitchen that feels light, airy, and open, select from the range of neutrals that have added warmer tones to the paint. These kinds of softer pale notes will add to the feeling of expansiveness you wish to create, but without feeling too cold and stark and, 'will result in a bright uplifting interior' explains, Ruth Mottershead.
Sarah Tract at Sarah Tract Interiors agrees, 'Typically, I like to keep the walls of the kitchen white and let the cabinets speak for themselves.' When decorating with neutrals, you always want to bring in some texture too so it doesn't look too flat. In kitchens, this is trickier to do as they don't offer a ton of space for decor, but displaying wooden chopping boards, your best crockery, and adding in some frames or vases is all you need to give the space some interest. 
6. Pair darker shades with light and bright walls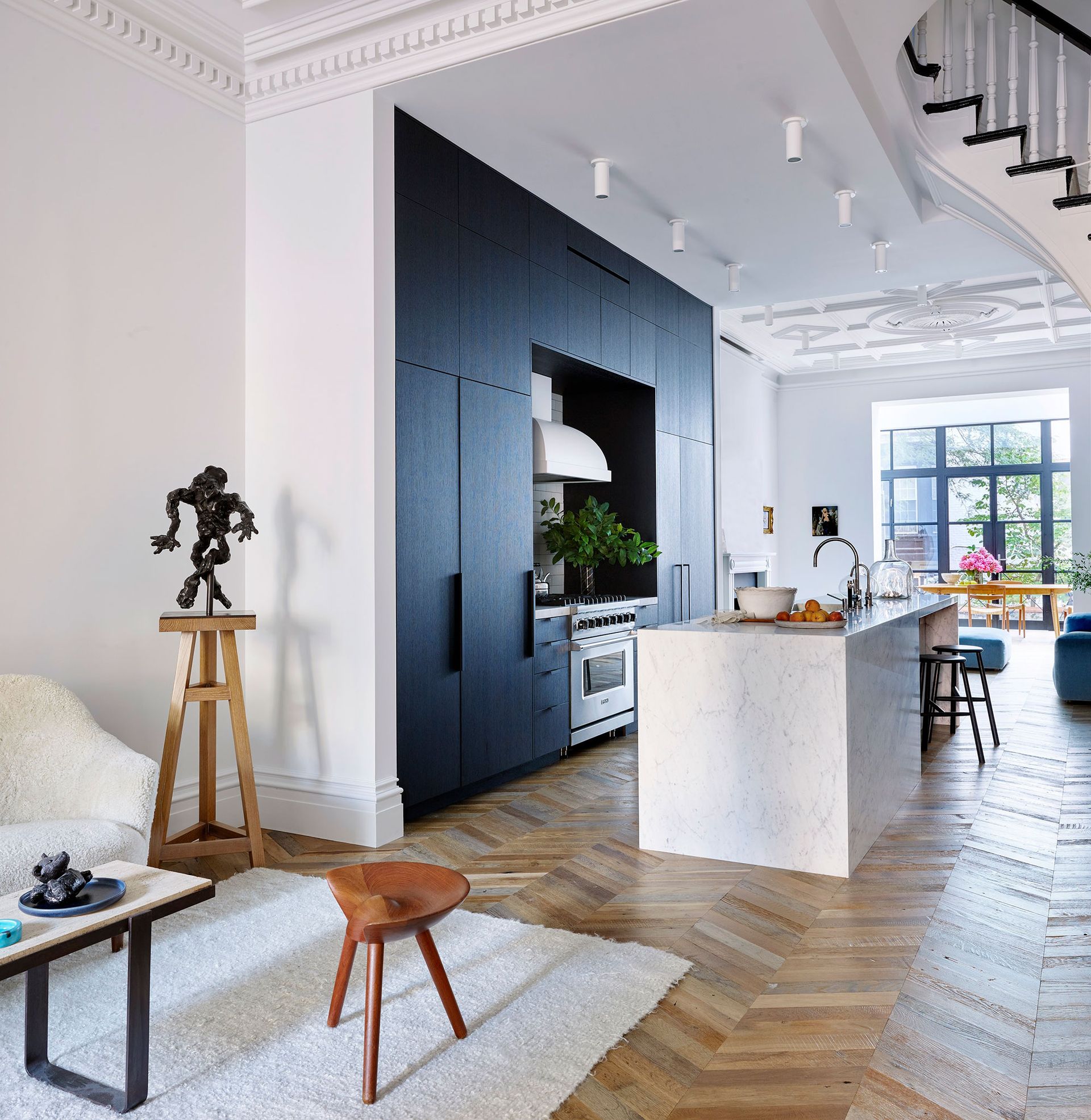 Contrast is a design theory that cleverly allows the object you desire to jump out, in this New York apartment kitchen, the monochromatic contrasting used by designer Timothy Brown, elevates the one-wall kitchen in the open plan space.
Designer and chef Peter Som, adds, 'I love the high contrast in this open kitchen, it creates a modern clean-lined counterpoint to the traditional Upper East Side townhouse.'
'It's the use of the deep ashy black millwork that delineates the space and also creates an intimate moment within the spacious parlor level. For me, it's the perfect balance of modern and traditional – it's bold and modern, to be sure, but also a casual spot to hang out in.'
7. Add subtle pattern with a wallpaper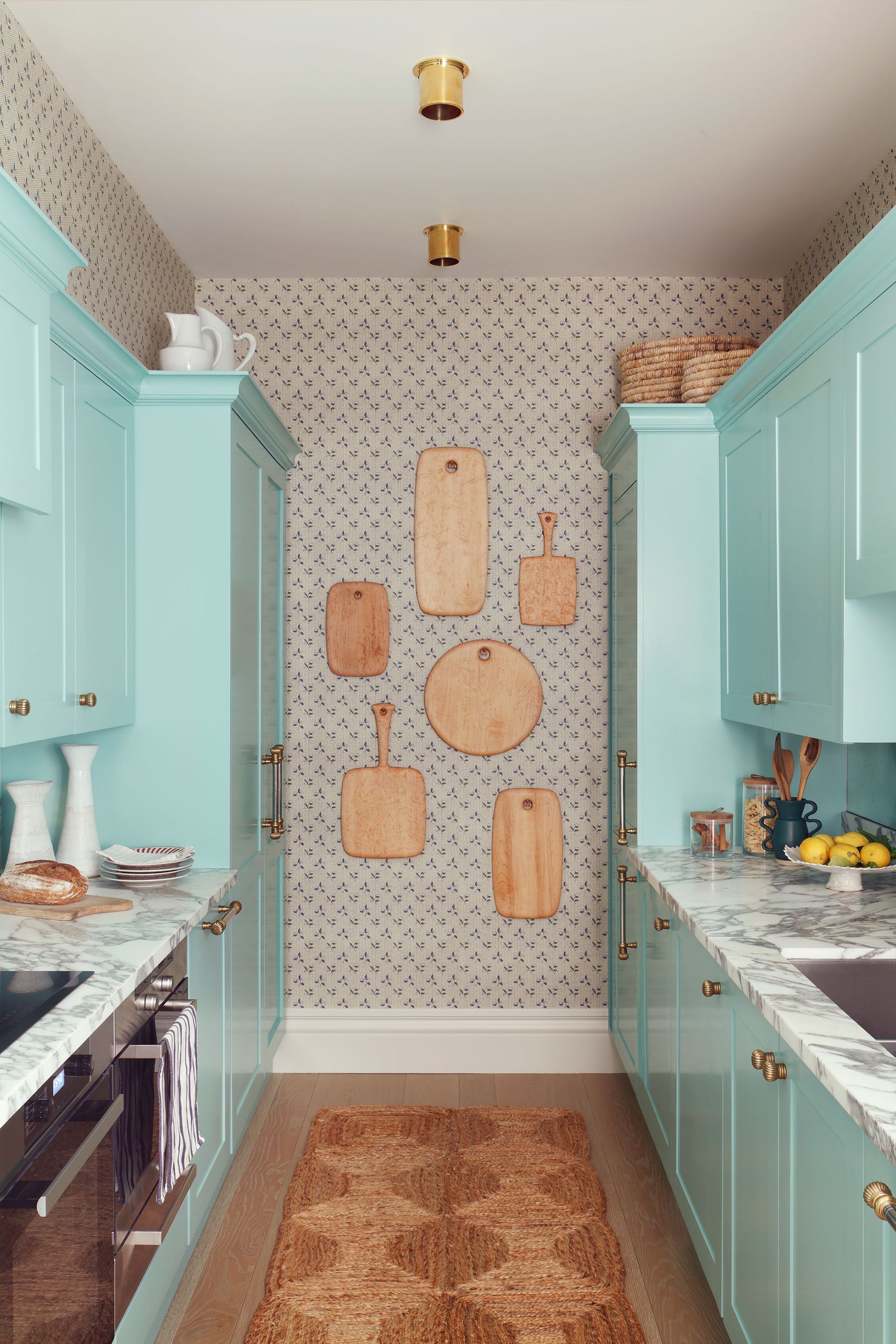 Kitchen wallpaper is a great alternative to paint and delivers a very different style of detail to a kitchen, the use of wallpaper is unexpected and creates a sense of comfort and personality that is hard to replicate with paint.
Interior designer, Melissa Lee at Bespoke Only, 'We sometimes employ wallpaper on kitchen walls to bring in additional texture.' As does Sarah Peake, at Studio Peake as seen in this kitchen she designed using pale aquamarine blue for the cabinets, alongside printed paper from Antionette Poisson.
'Wallpaper has seen a massive comeback in recent years,' agrees Helen Parker, at deVOL. 'The look of people's homes is influenced by texture and pattern.'
8. Choose a simple backdrop for a bolder palette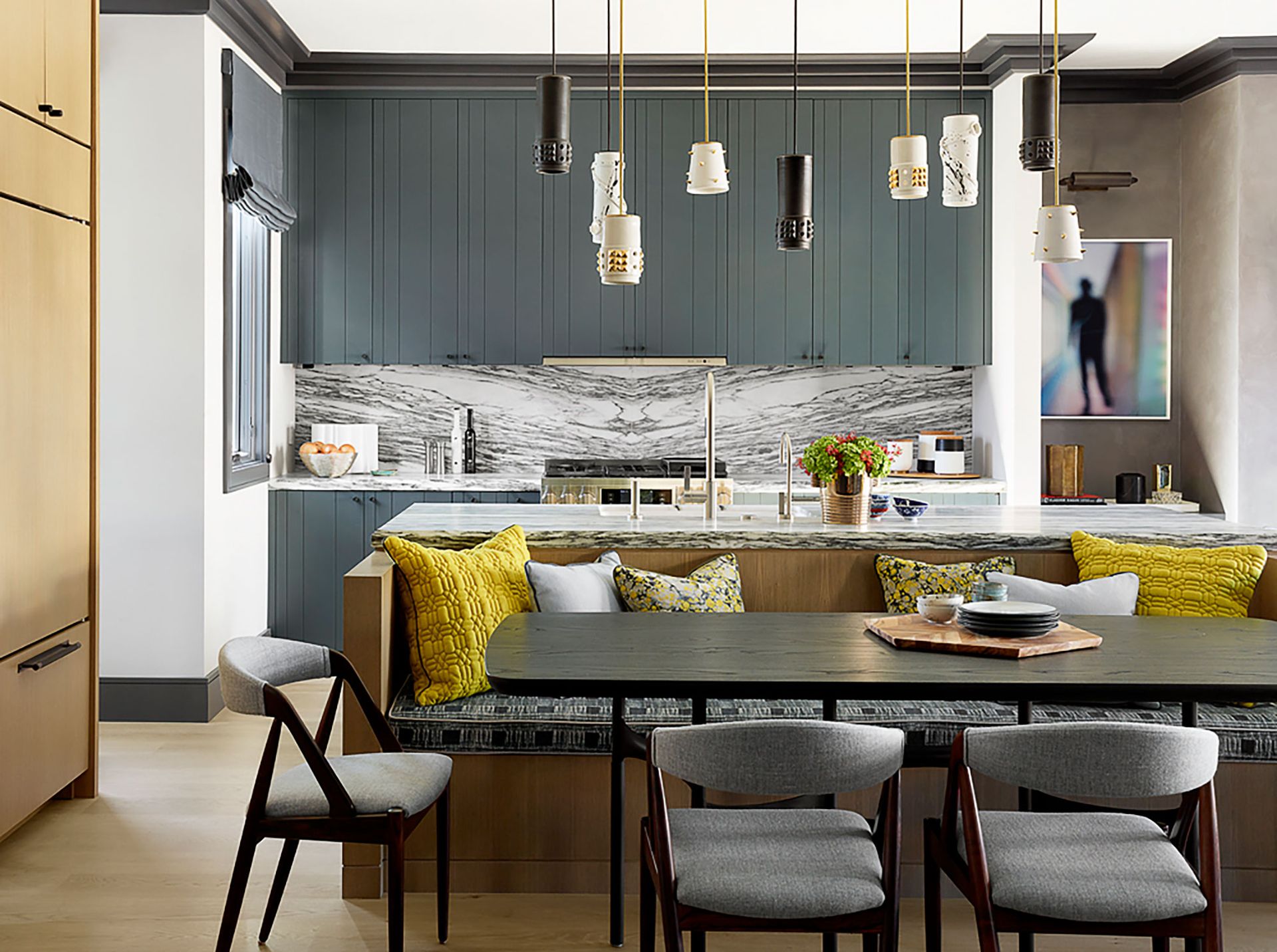 Bringing color into a kitchen design is not just via painting the walls or cabinets, using wallpaper, or choosing multiple tones. A key design tool is to introduce color through objects, lighting, furniture, and textiles, this device is useful if you do not want to be overwhelmed with bold or bright colors but would still like brighter tones in the overall look and feel of your kitchen.
Designer Jay Jeffers, explains further, 'When designing a kitchen, I always ensure the colors work well with the rest of the house without being overly matching. I recommend keeping the kitchen wall color neutral and letting the cabinetry and countertops be the star of the show. For cabinets, natural wood is always classic, and blue. To add a pop of color or pattern use lighting and accessories to balance out the neutral walls.'
This San Francisco kitchen is a perfect example of keeping the walls neutral and letting the teal kitchen cabinet color and marble backsplash shine. Yellow pillows, along with ceramic pendant lights with spiked details by Amanda Wright, ensure the kitchen has a slight edge to it, without compromising its original charm.
9. Create a crisp combo with white and green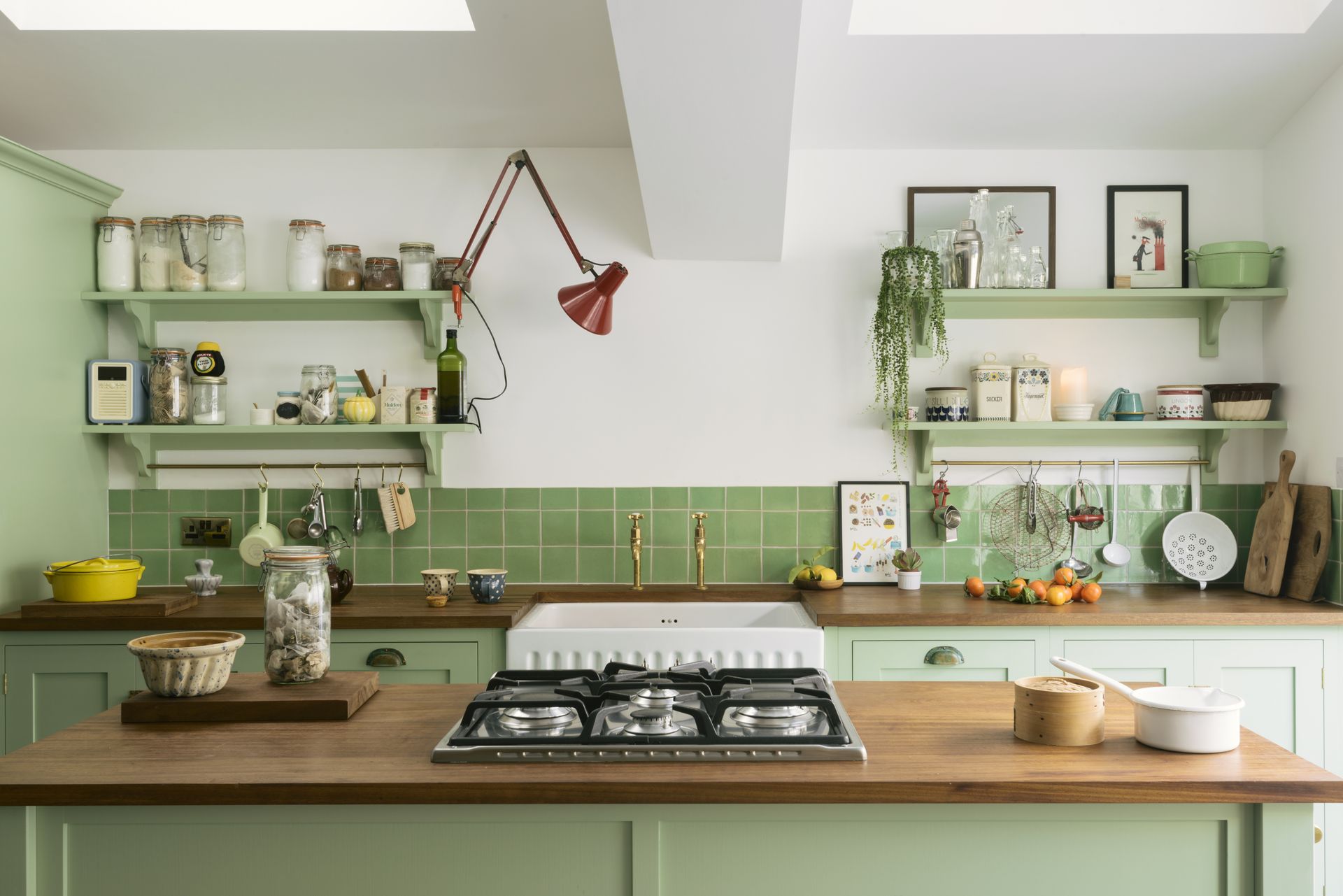 A crisp white backdrop provides the foundation for the design drama to take place elsewhere, either with tiles, cabinetry, artwork, or even houseplants. Choosing a clean white backdrop gives you the element of allowing your kitchen gadgets, books, or cabinets to sing as can be seen in this green kitchen.
'Kitchens are spaces we spend a lot of time in these days and, unless you are super minimalist, they usually also accommodate a necessary level of stuff too. In view of this, although we wouldn't advocate for bland kitchens, if you'd like to use color, choose a muted tone for the walls and focus instead on bringing in color in other ways, such as on cabinetry, through a brightly-colored range cooker or light fittings. This will ensure that whilst far from bland your space doesn't end up full overwhelmingly colorful or busy,' explains, Sarah Davies-Bennion, Designer at Kate Guinness Design.
FAQs
What colors should I paint my kitchen walls?
Your kitchen is the perfect room to make daring design decisions, a space naturally full of activity providing you with the opportunity to bring in bold, bright, or color-drenched design decisions.
If you prefer a muted backdrop, softer tones, whites, creams, pale pinks, and greens all offer the best frame to instigate color being brought in through objects, cabinetry, furniture, or upholstery.
Choose two tones, that connect on the color chart or are in opposition, there are no rules to your personal taste and whims, but always experiment first with color cards and tester pots.
Wallpaper is coming back in a big way in kitchens and with it the chance to invite texture and depth into your kitchen and add an extra layered element.
Remember certain colors emphasize feelings, for example, warmer tones like red and yellow could stimulate appetite! While cooler shades like blue and green will aid in relaxation. So think about how you want to feel in your kitchen. 
Consider the kitchen's size and natural light when choosing colors too. Lighter hues will make a smaller room feel more open but darker shades will make it feel cozy. The right tone will make a real difference to your experience at home so try out lots of colors, and listen to your gut instinct when you find the one, two, or three, that resonate with you.