Entryway bench ideas can pack a punch in both style and function. For what is such a simple and often small piece of furniture, it can still add more design interest – not to mention an extra spot to decorate as you wish – to this important space.
After all, you come through your foyer every day and it's where you welcome guests also which means that you'll want your entryway to look spot on, always. Rest assured that the polished look and additional storage that a bench can provide will help give a great first impression of your home.
Entryway bench ideas
Practical, beautiful and a dream to decorate, entryway benches can bring more personality to your foyer than you might have imagined.
California-based Lindye Galloway, owner and creative director of the Lindye Galloway Design Studio & Shop says, 'First impressions are everything! An entryway truly sets the tone for the entire home and is the first place loved ones and guests see when they arrive. Make it count!'
Benches play an important role, even completing the most beautiful hallway ideas with their many uses. You can of course sit on them to put your shoes on and take them off, they can be used to keep essentials on like post and keys, but above all, they will add interest to your entryway.
1. Keep your entryway bench area tidy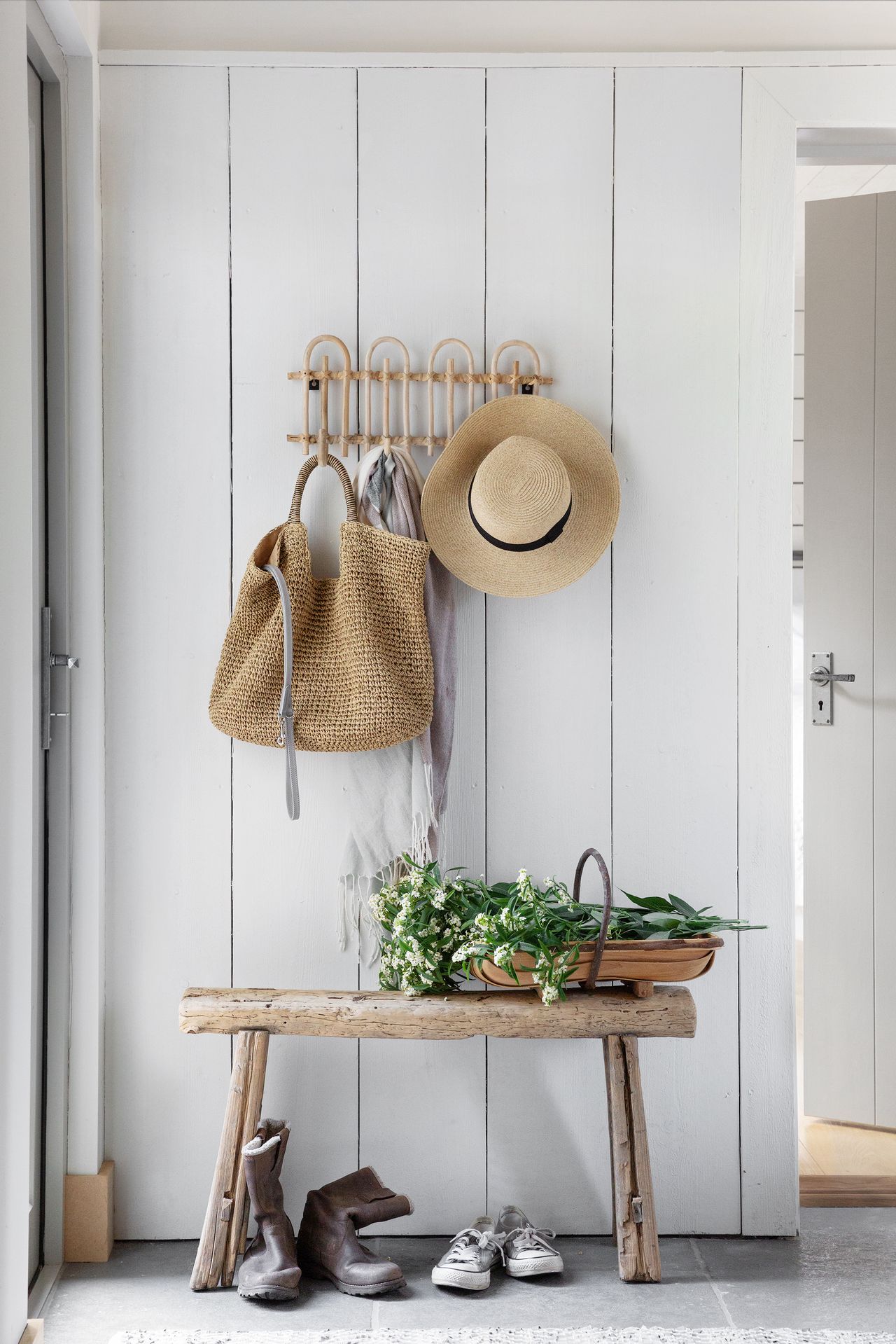 'I always think an entryway bench is so very useful,' explains Sam Hood, co-founder and chief creative director at Amara.
'It gives comfort and practicality to your everyday routine along with creating a stylish and welcoming appearance. I would just say to try and keep this as tidy as possible, it is too easy to use as a dumping ground which would spoil the aesthetics and your guests first glimpse into your home.'
2. Match your bench to a coat rack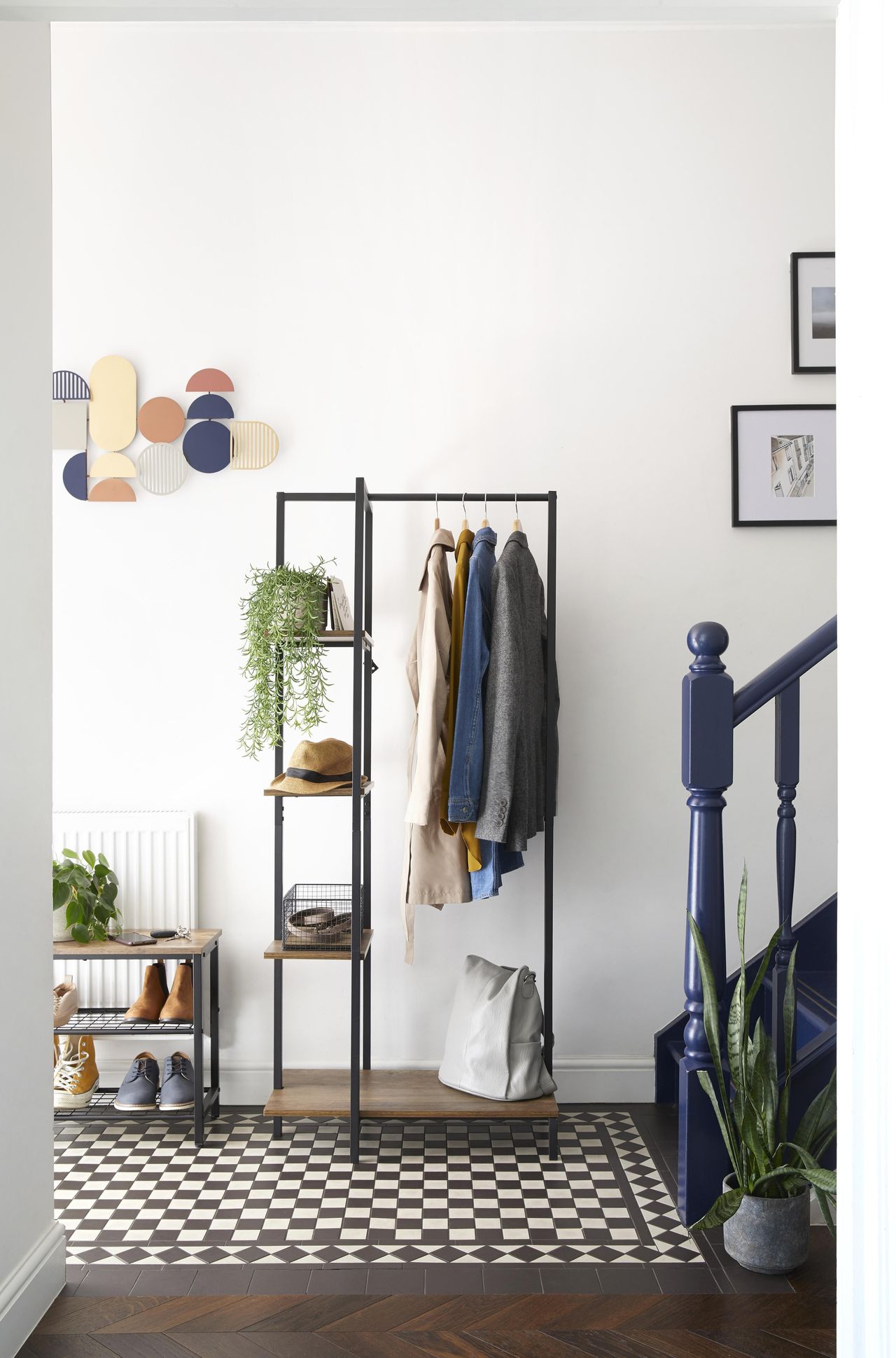 For a cohesive look match your bench to any other pieces of furniture you may have in your entryway. This tall clothes and shoe storage rail pairs with the bench and it helps the space work. 
Both are super practical and because the metal frames are thin they don't take up much space visually – this means you can 'see' through both units whilst the entryway remains light and airy.
3. Go old school for all the family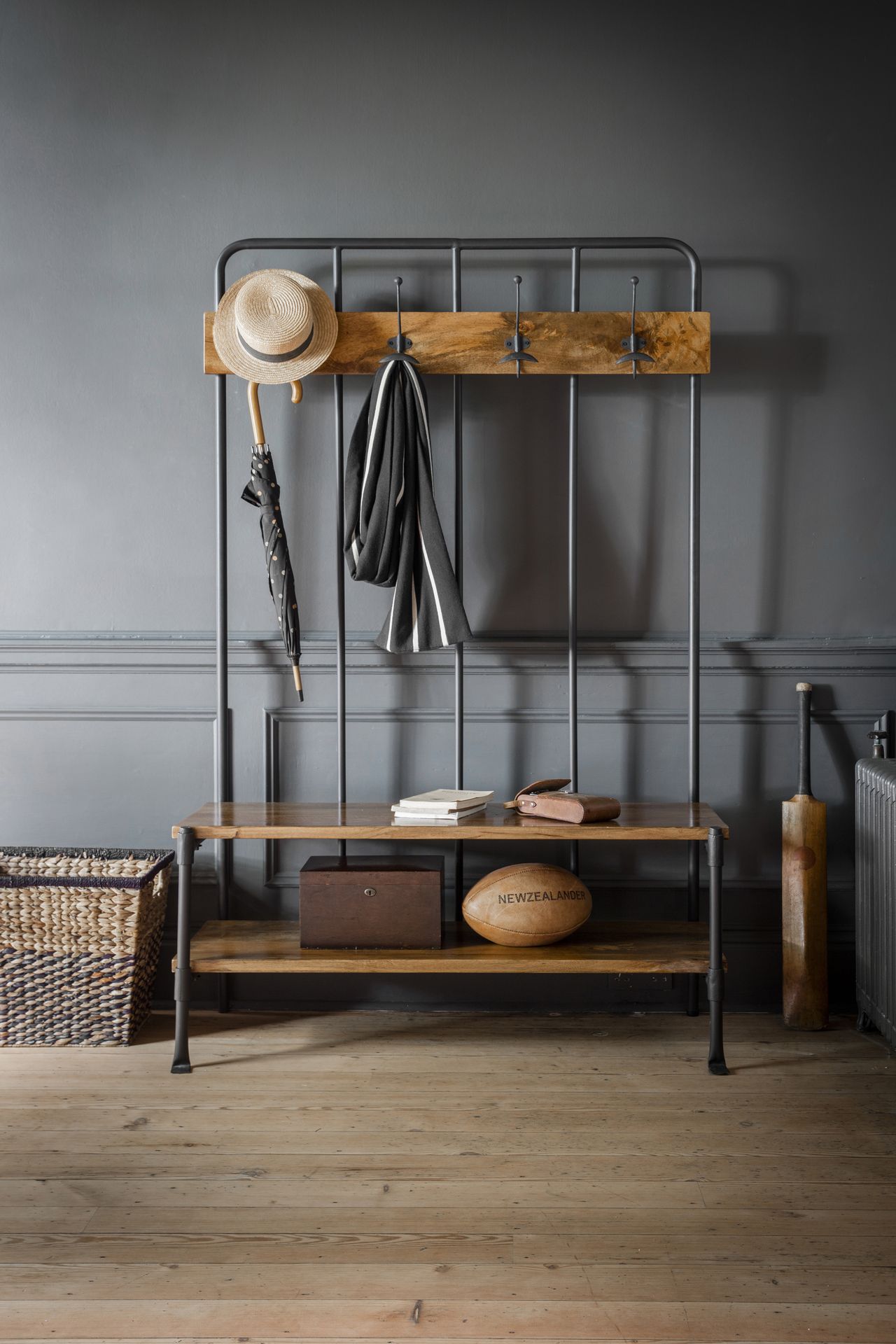 Similar to school style designs, this hallway bench gives you hanging space for coats and scarves, room for sports kits and most importantly, somewhere for everyone to sit whilst they put on their shoes or take them off, much like you would do in a mudroom.
This style is ideal for those who love the industrial look and it will go with any color scheme.
4. What's more exciting than a real bench?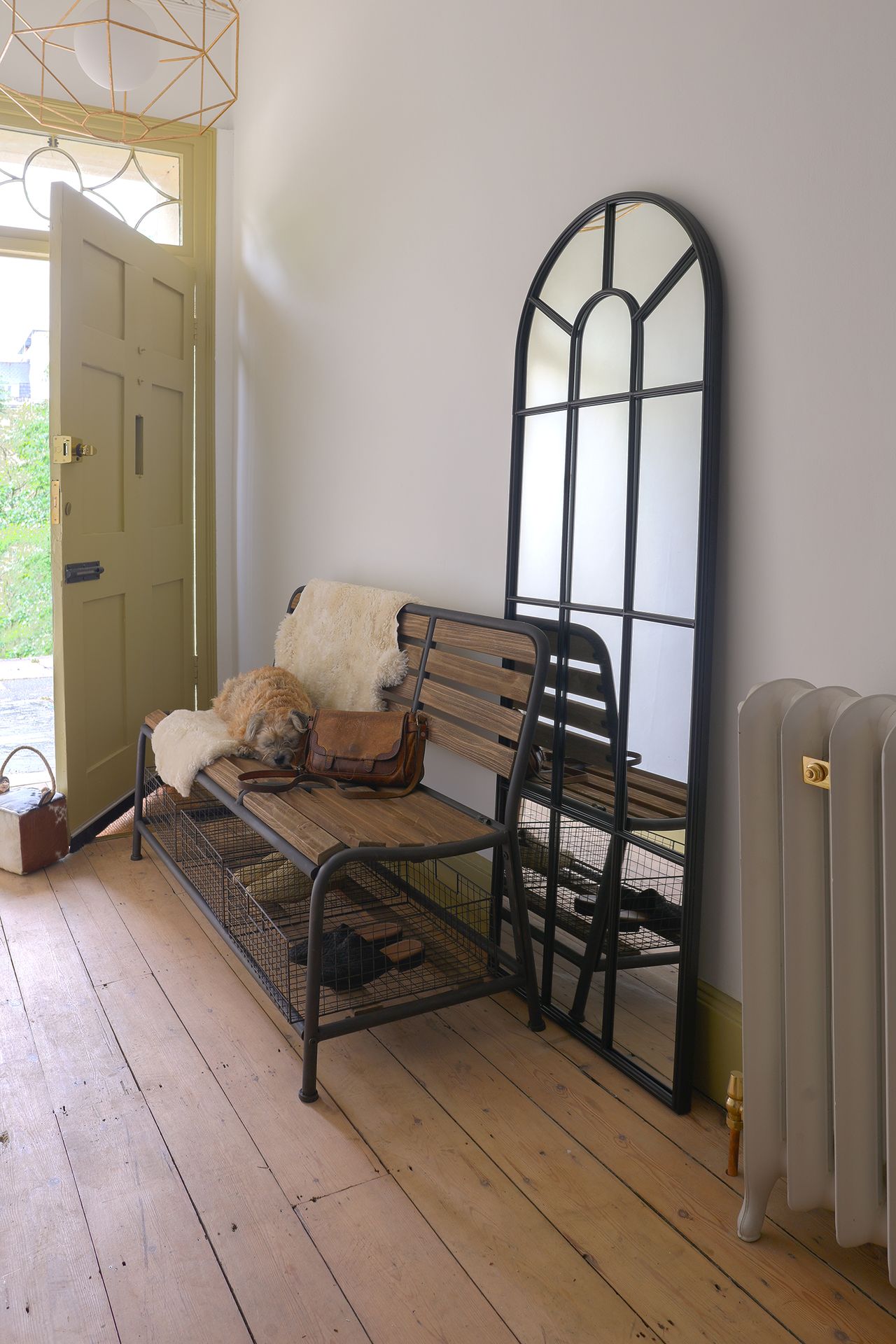 Super cool and stylish, if you can get your hands on a real bench then you totally should. This design by British Graham & Green uses a classic bench structure but with three wire baskets underneath for shoes, bags and accessories. 
You can pop on a sheepskin for cozy sitting and it's large enough for two people to sit together whilst getting ready.
5. Choose pale wood for a light and airy feel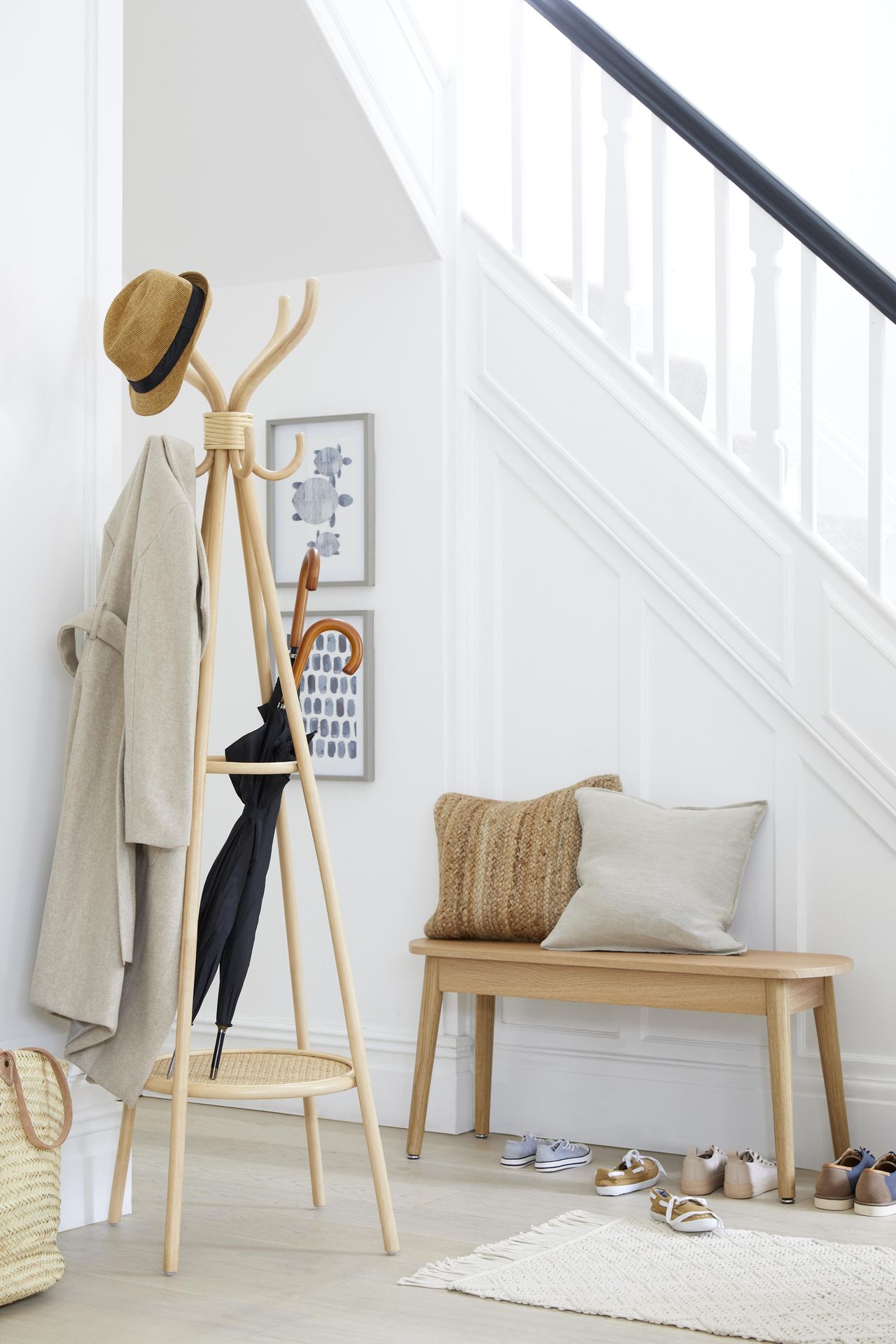 The beauty of light wood is that it helps a space appear light and if your space is on the dark side, apart from choosing lighter hallway paint colors like white, a pale wood will help. 
An entryway bench doesn't need to be fancy, it can be a simple yet beautiful design and still be practical. A design with curved corners will also ensure that no one gets bruised if they knock into it.
6. Give your bench a double use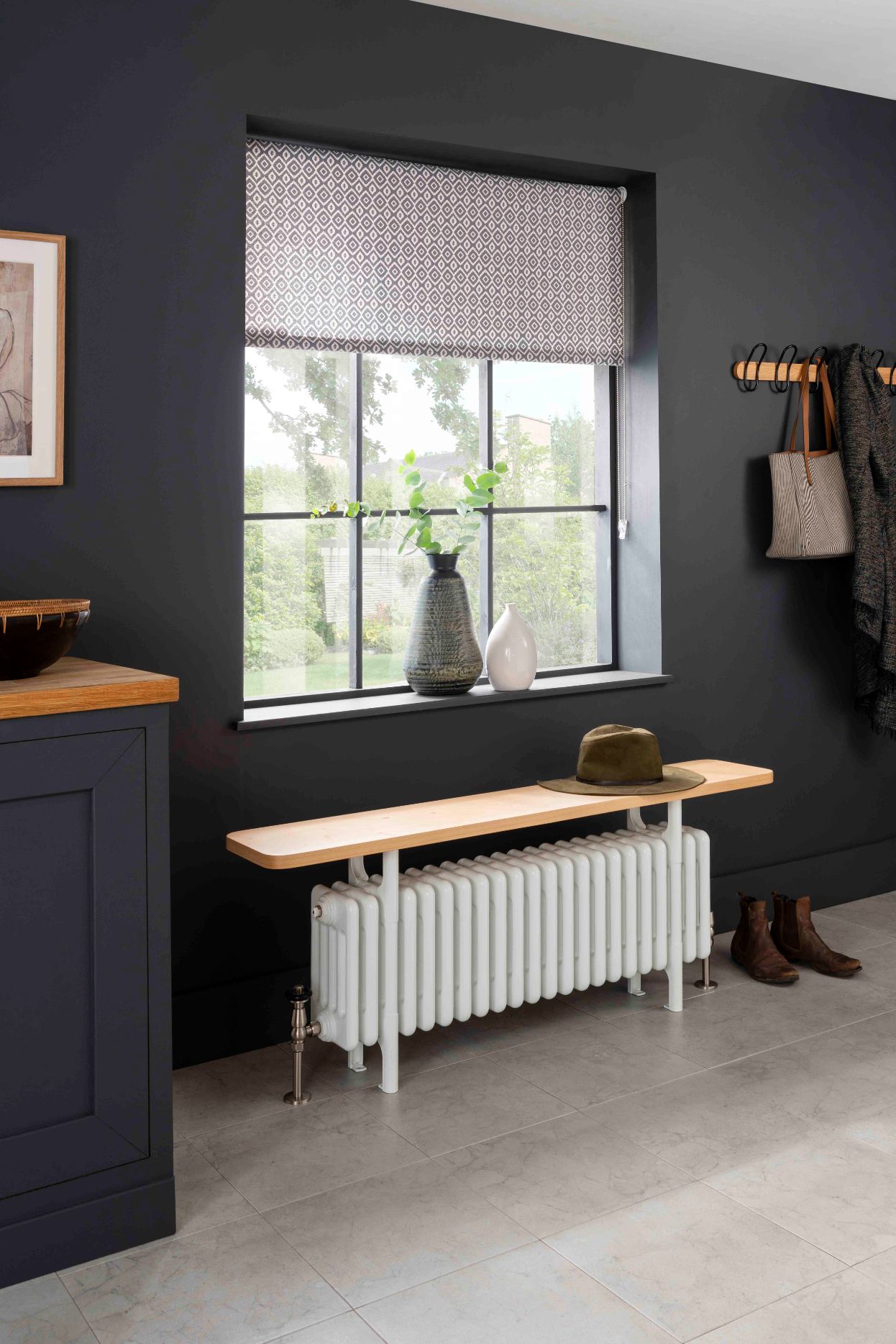 If space is premium, then opt for entryway bench ideas that give you more than just a seat. Choosing a radiator and seat combo is practical to give you heat after a cold walk outside for example, while you'll be able to take a load off and get rid of muddy shoes and coats with ease too. 
Match the seat of your radiator to other items in the entryway – like a peg rail or sideboard top for a clever hallway storage solution that's stylish too.
7. Make yours cozy with an upholstered design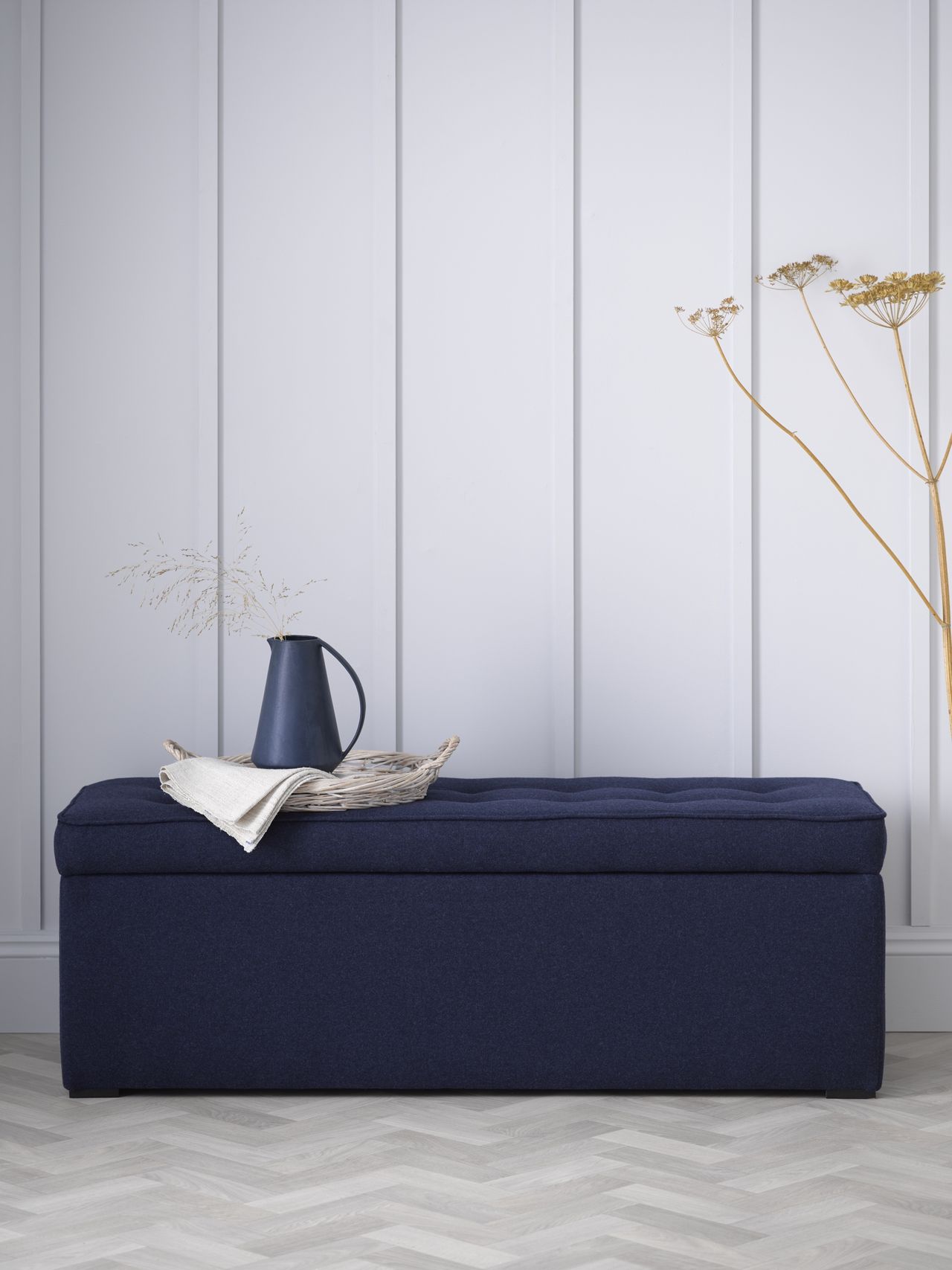 We tend to think that entryway benches should have a wooden seat, and while most do, you can choose a design that's comfy to boot with an upholstered seat. 
A design like this will have a lift up lid so there's plenty of storage space underneath which makes it ideal if you want a more streamlined uncluttered look as you can hide it all way. 
'Space can be so hard to find especially in an entryway. The best way to organize a compact space is to make your furniture do more for you. Opt for multifunctional pieces to extend your storage spaces. An ottoman disguised as a storage drum, for example, is always a big winner.' says Patricia Gibbons, part of the design team at Sofa.com.
8. Create interest around your entryway bench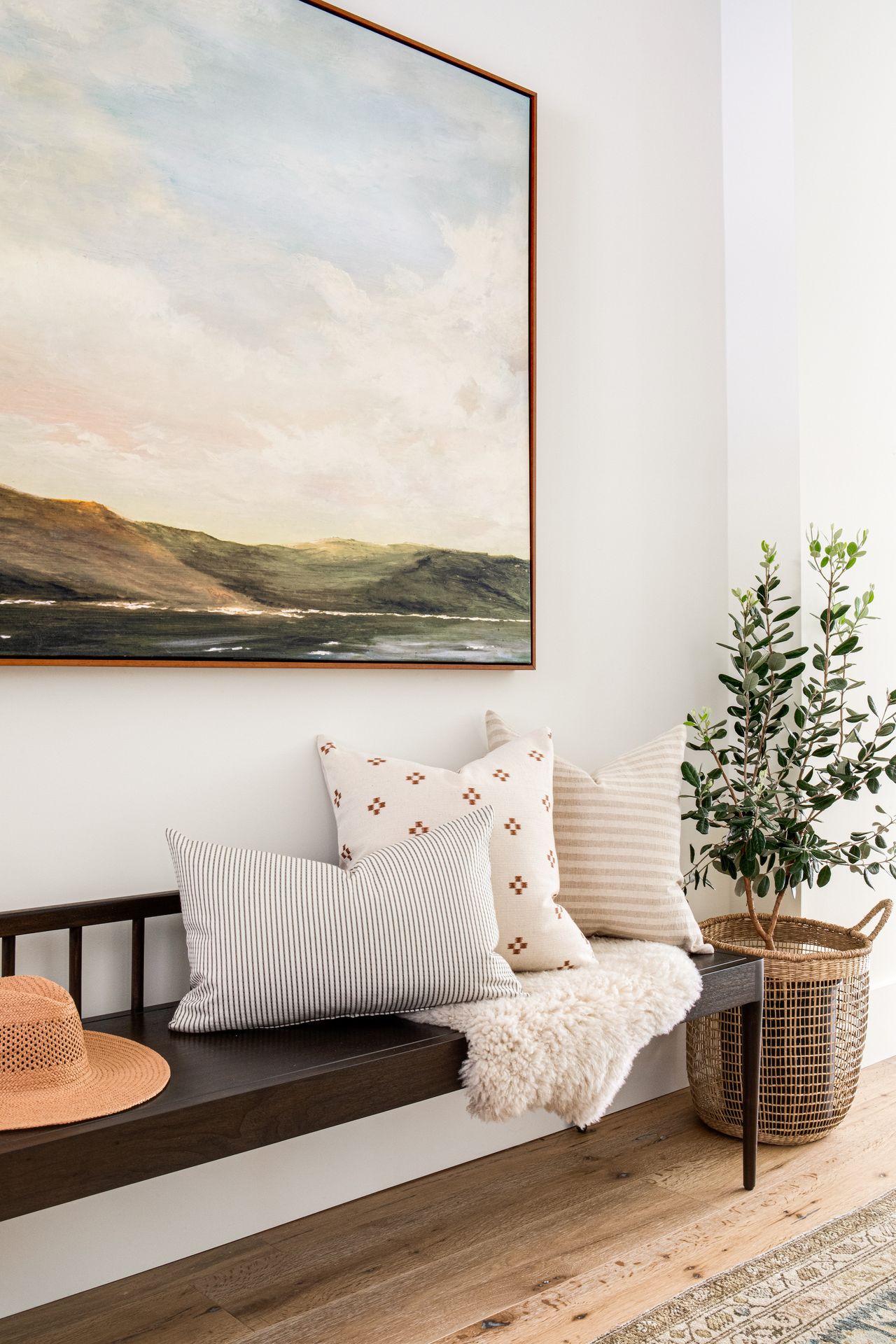 'This entryway bench has a Scandinavian spirit! With its focus on clean and simple lines, it brings about functionality without sacrificing beauty. In this case, we placed an oversized neutral landscape over the bench to ground the space and create some nice contrast and interest.' Explains Galloway.
9. Stay streamlined with teak wood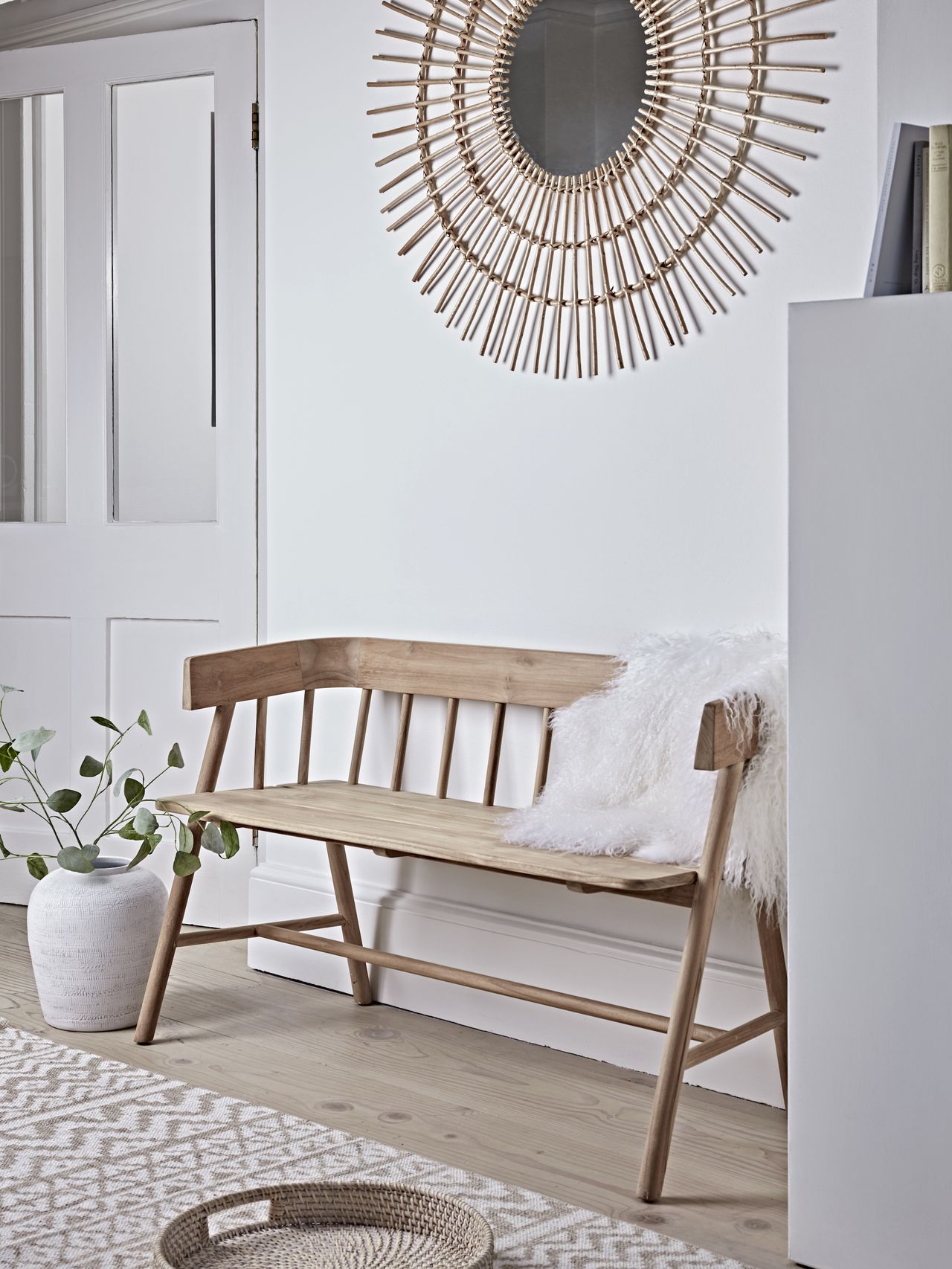 For an authentic finish, opt for entryway bench decor ideas that are simple. This handcrafted, simple design works because of the natural beauty of the wood and clean design lines.
A spindle back adds comfort and makes it standout from a standard style bench. The color of the wood makes it easy to accessorize with an entryway rug for example, while a coir runner, a wooden framed mirror and baskets for storage are all great ideas that would work alongside it.
10. Let your entryway bench match your walls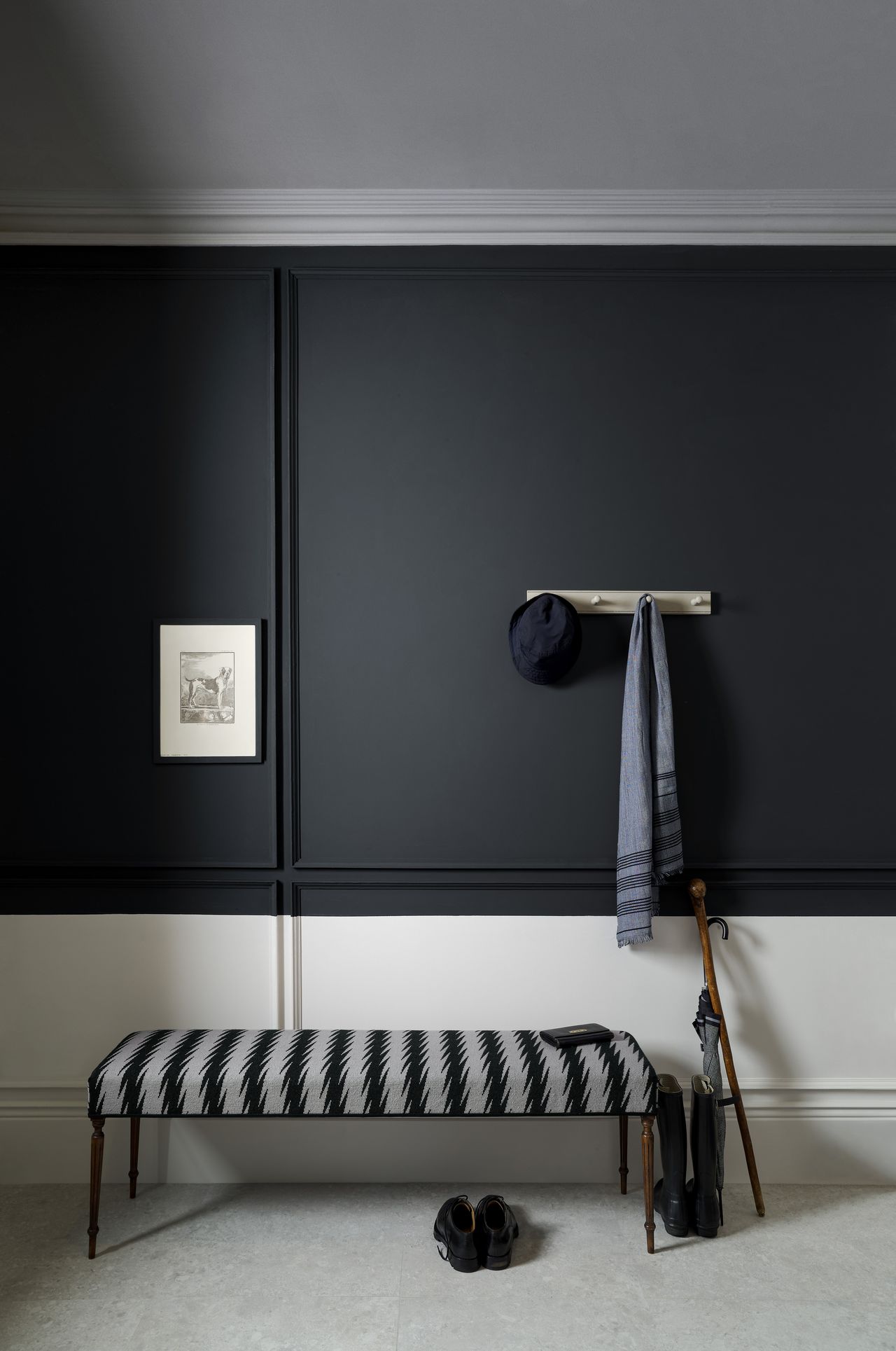 We love this look, the grey and black on the walls match perfectly with the upholstered bench. 
The result is a really smart look that has a modern feel even though the bench has classically shaped legs. This kind of look lends itself to a more minimalist look.
11. A classic bespoke option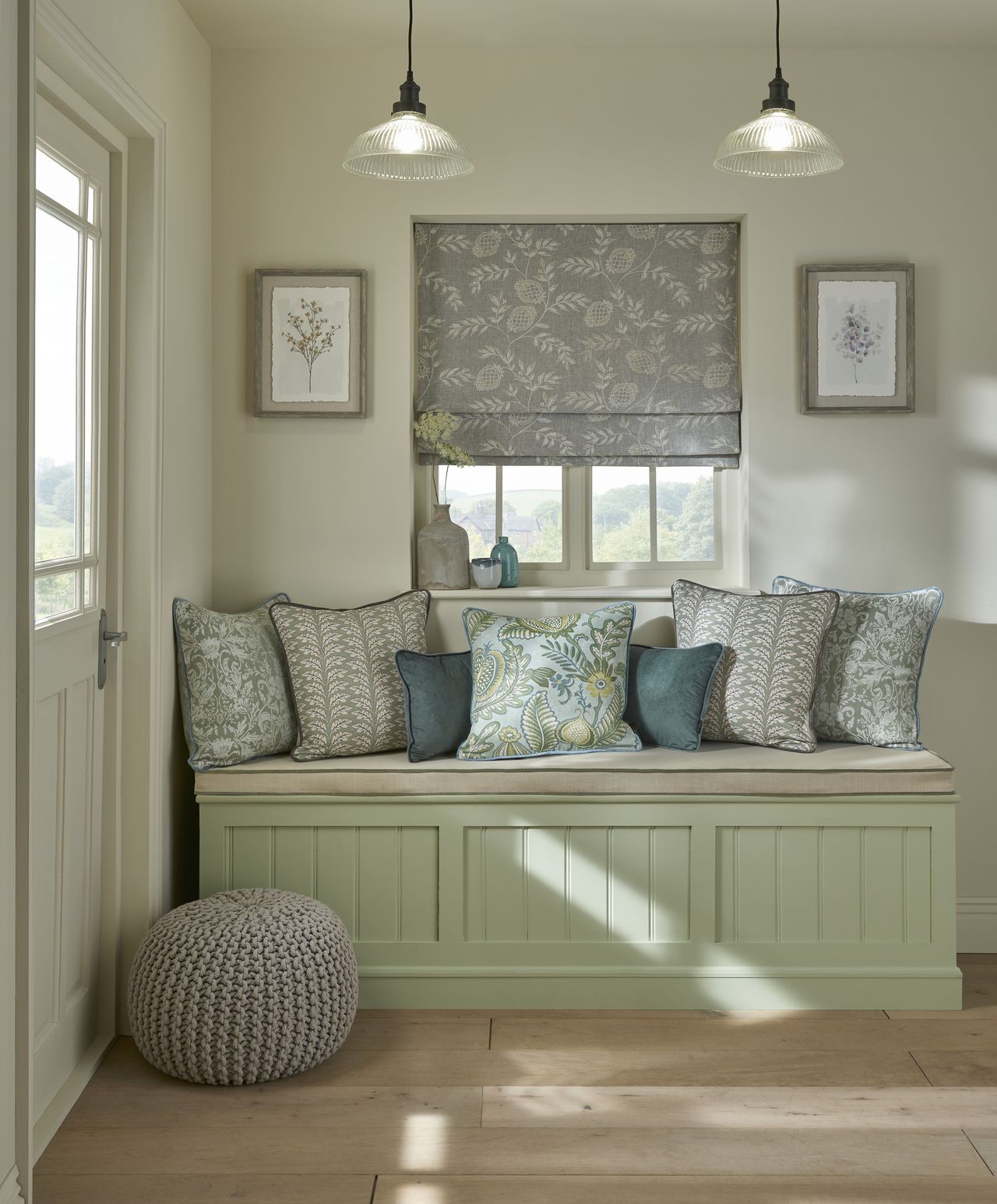 If you're after a more permanent bench that's not moveable, then a built in design is your answer. 
Having one made to measure works for several reasons, one being that it can be made to blend in perfectly with your scheme and secondly, if your entryway is a narrow or awkward space then it can be made to fit. 
12. Paint your entryway bench to match your scheme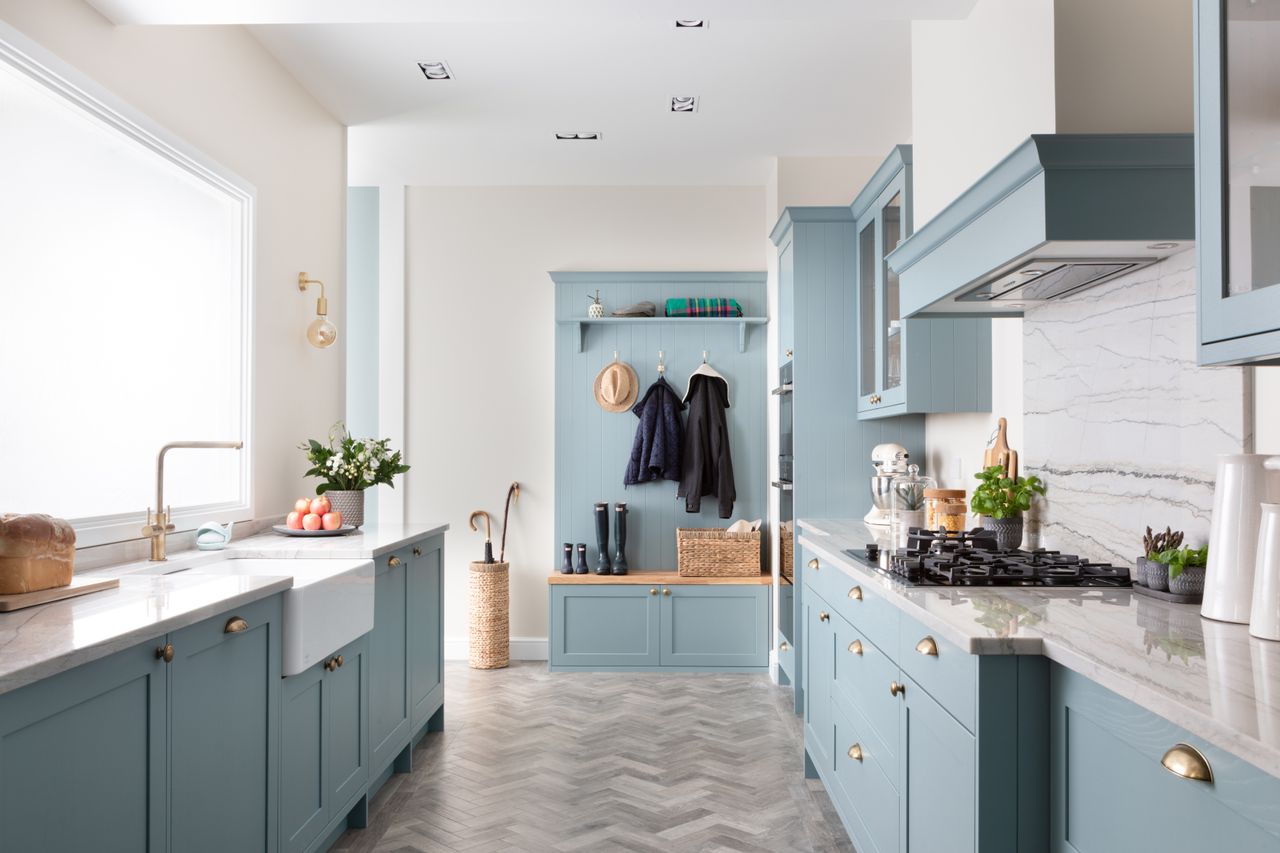 Not all entryways are straightforward, some can be at the rear of the house so you're essentially walking straight into the kitchen instead of the more conventional entryway that leads to other rooms. 
In this case, we love how the entryway bench is painted the same color as the kitchen, so it all blends perfectly together. 
How do I choose an entryway bench?
Your entryway bench should reflect your house style, be it minimalist or maximalist. What you do need to decide is whether you want it to blend in or standout. If you're prone to changing your decor every few years then a design that's classic wood would be a great choice, that way you can update and paint walls in any color, but the furniture can stay the same.
What do you put in a front entryway?
As well as your bench, there are several other items that will be really useful. If you don't have a bench integrated with pegs then pop up a peg rail for coats and scarves, a console table if you've room – they are great for putting a table lamp on. Artwork always adds color and a floor runner will protect the floor and add texture.  
How tall should an entryway bench be?
An entryway bench should be tall enough that it's comfy to sit on, you don't want it too low, or too high. A standard height that most chairs come in should be right, but some benches may be between 18 and 20inches.  It's personal preference really so do measure it out before you buy. 
https://www.realhomes.com/design/entryway-bench-ideas